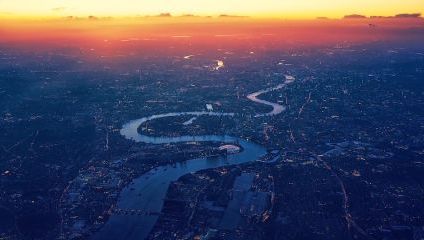 The finest places to spy a sunset for free
There are some beautiful places all over London where you can see our beloved Sol turn in for the day. Everyone loves a good sunset photograph too, so check out this handy website if you're a keen snapper - it calculates the 'Golden Hour' of sunrise and sunset, when the colours are at their most glorious.
---
Primrose Hill
We'll start with one of the most obvious spots - Primrose Hill, located just above Regent's Park. It's a well-travelled area for catching the dying embers of a summer evening, but with good reason: it's bloody gorgeous. You'll find many a couple cosying up together, and it's nicely located for taking a jaunt into town afterward. At 203 feet it's the highest hill in North London, and the panoramic view it offers of the skyline is uninterrupted. So, to paraphrase Blur, "take a trip to Primrose Hill, the view's so nice".
Primrose Hill is found in the Borough of Camden, just north of Regent's Park.
Image © Mike Rolls
---
Telegraph Hill Park
If you're after Primrose Hill vibes, but seclusion and privacy are on the agenda, then Telegraph Hill Park in Brockley, South East London is the place for you. It's an unassuming patch of green, so named because it used to house a telegraph communication tower (think of the torch towers in Lord of the Rings, but using a more complex system of shutters) that formed part of two chains leading to Dover and Portsmouth respectively. The view is just as pretty - if not as all-encompassing - as that of Primrose Hill, with the added advantage of that off-the-beaten track feeling we all know and love.
Telegraph Hill Park is located in Brockley, Lewisham. SE14 5TW will get you to Kitto Road, right on it's doorstep.
---
Richmond Park
Our final green space in the list is awarded to the incomparable Richmond Park. You won't find quite as much in the way of elevation here, but the feeling of escaping the urban sprawl can't really be matched anywhere else in London. Although the highest point is over by the magnificent Georgian mansion Pembroke House, our favourite spot is by the pond. There you can sit amongst the ducks, and revel in the light bouncing off the water. If you fancy a tipple, then The Roebuck, on top of Richmond Hill, is a lovely pub which also affords great views of the Thames.
Richmond Park is located in Richmond, Greater London. TW10 5HS covers the park, or TW10 6RN for The Roebuck.
Image Credit © ale
---
Frank's Cafe
Another favourite spot with easy access to refreshment is Frank's Cafe in Peckham, on the 10th floor of the Peckham multi-story car park. Most of the rooftop bars with sunset-ability are expensive, or even charge entry. Franks is free to enter, and serves up an affordable pint, and a very affordable Negroni. The sunset is very South London, by which we mean it's urban, no-nonsense and quietly spectacular. The atmosphere is fantastic on a summer's evening, and it's almost a rite of passage for any self-respecting South Londoner.
Frank's Cafe is located on top of Peckham multi-story car park, SE15 4ST.
---
Waterloo Bridge
We'll end with another classic. Ray Davies wasn't joking when he penned those immortal lines - Waterloo Bridge is picturesque, with both the East and West facing views taking in some of London's greatest landmarks. You'll be facing West, of course, but it's worth turning round to see reds and oranges glancing off the buildings surrounding Bridges Blackfriars and Southwark. If you're anywhere nearby, Waterloo is the ideal spot to head to for sundown, and it can quickly turn an ordinary evening into something rather special.
Waterloo Bridge can be found at SE1 8.
Image Credit © yisris