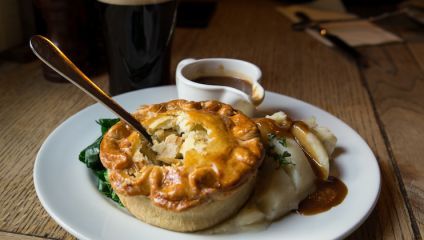 Pie and mash is the quintessential east London meal
Pie and mash is the quintessential east London meal. Though there may be fewer of them around, there are still a few traditional shops left, serving fresh and handmade pies. Lots of these businesses have been handed down from generation to generation, meaning that in amongst chains and pop-ups, there are still places in London run by families who love traditional food.
---
Arments Pie and Mash
Established in 1914 by the Arment family, this pie and mash shop in South London has been a stalwart of Walworth for over 100 years. They are still serving their traditional pie and mash today, making them by hand with fresh and high quality ingredients.
Arments Pie and Mash is in Walworth.
---
Ginny's Pie and Mash
At this proper East End pie and mash shop, there is only kind of pie on offer, meat. It comes with either liquor or gravy, and of course, mashed potatoes. If you are still a bit peckish after you have some jam roly-poly and custard. This simplicity showcases the deliciousness of simple, well-cooked food.
Ginny's Pie and Mash is in Plaistow.
---
Goddard's at Greenwich
Goddard's Pie and Mash was founded in 1890 by Alfred Goddard, who opened a shop in Deptford. As the years went on, the business expanded, and a new shop in Greenwich was opened. This shop is today still owned by the Goddard family and serves amazing pie and liquor, from your traditional steak and kidney to chilli beef. If you are feeling particularly greedy, you can double your pie and even double your mash. Set right by Greenwich market, this is a perfect spot to fill up on delicious traditional grub and then take a Sunday walk.
Goddard's at Greenwich is in Greenwich Walk.
---
M. Manze
Serving pie and mash and jellied eels, M. Manze was established in 1902 by Michele Manze, grandfather of the current owner. Now over 100 years later, they still use the same recipe, making their pies in the same traditional way they have always done. This South London shop has developed quite a reputation, and you can order pies for your own events or just to have at home. You can even buy some Manze merchandise: t-shirts and mugs complete with a picture of their famous pies, and an eel.
Manze is in Peckham.