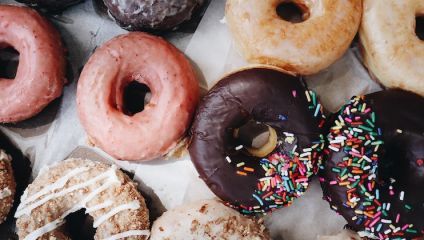 About time we searched far and wide for the best vegan patisseries and ice cream parlours in London
Dairy free doesn't have to mean taste free! We've searched far and wide for the best vegan patisseries and ice cream parlours in London.
---
Yorica!
This 100% vegan ice cream shop isn't just dairy free but also nut free, providing a safe environment where vegans and folks with allergies can order anything they like without risk! There is free wifi and lots of table and bar seating in a clean and modern, minimalist interior. Yorica's menu offers an impressive variety of freshly made hard packed ice creams, soft serves, and even crepes. They also have unique vegan toppings such as gummy bears, mini marshmallows, cute miniature cookies and of course fresh fruit. You can sample any flavours you want before choosing and the silky smooth texture of their ice creams is impressively creamy considering it's rice milk based.
Yorica! is at 130 Wardour Street, London W1F 8ZN
---
Ms. Cupcake
This small vegan cupcake shop in Brixton really feels like a craft workshop where people care about their work. The pretty little creations almost look too good to eat and you might struggle to decide which flavour to choose, as there's so much mouth-watering choice! Best of all, they are not just cute but deliver in the taste department with a rich and indulgent experience. The cupcakes are delicious, the staff are friendly and they must be one of the few shops in London that makes gluten free & vegan cupcakes that taste this good. The Ambassador, a cupcake tribute to the classic Ferrero Rocher, with chocolate and hazelnut sponge and hazelnut spread on top comes highly recommended. If you're in Brixton and in need of a sweet treat, look no further!
Ms. Cupcake is at 408 Coldharbour Lane, Brixton, London SW9 8LF
---
The Canvas Café
An exclusively vegan cafe with a nice selection of coffee, teas, and cakes just off Brick Lane. The food is locally sourced, healthy and there is something for everyone. The laid back friendly vibe goes beyond the food as well – the Canvas Café is London's first Happiness Museum, with little messages of hope and positivity on the walls, offering an oasis of acceptance, calmness and relaxation that takes you away from the busy hectic London world. Their signature deserts are the freakshakes, which are quite a sight; oozing over with creamy goodness, they are actually a lot lighter than they look, as they are of course non dairy. So go a head and treat yourself!
The Canvas Cafe is at 42 Hanbury St, London E1 5JL
---
Crosstown Doughnuts
Doughnuts are having a huge moment right now! Crosstown Doughnuts started off as a little bus in Spitalfields Market, but has since expanded with an all-vegan doughnut shop in Marylebone, near Bond Street station. They do Sourdough doughnuts using the best quality ingredients whilst making everything in house – whether a jam, compote, glaze, filling or topping. Eggs and dairy are replaced with a range of plant-based alternative ingredients to achieve the same tastes and textures you enjoy in vegetarian doughnuts. Chia seeds and coconut butter are used in the dough, the doughnuts are fried in British rapeseed oil and a varying combination of oat milk, coconut butter, dairy-free dark chocolate and silken tofu make the fillings in decadent flavours such as orange blossom custard, gooseberry and lychee compote or homemade rhubarb and raspberry jam.
Crosstown Vegan Doughnut Shop is located at 5-6, Picton Place, Marylebone, W1U 1BL
---
Cookies and Scream
This place gets the approval from every vegan and omnivores in town. Their doughnuts and peanut butter cookies are divine, their cookie sandwiches creamy and decadent! The Camden market location had to close after the fire in Camden Lock in 2017, but now they have their own shop up on Holloway Road selling a range of cookies, brownies, pies and donuts made from the finest ingredients available. Every product is dairy, egg, wheat and gluten free. Also on offer is a selection of thick Scream Shakes, which can be made with one of the specially developed sauces blended with either a brownie or cookie.
Cookies and Scream is located at 130 Holloway Road, N7 8JE London