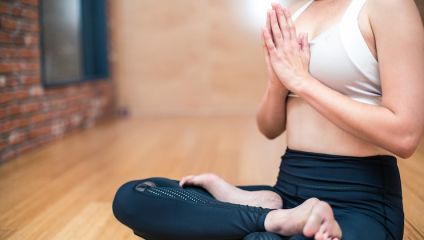 Relax... here are five ways to counter stress in London, from meditation sessions to drop-in drawing.
Mindfulness has been one of 2015's buzzwords, but in the busy run-up to Christmas and the New Year, you can be forgiven for not always staying calm and collected! If you're looking for a way to counter the stress of this time of year, here are five great (and free) ways to relax and unwind.
Lunchtime Meditation
Pop in to Inner Space centres in Covent Garden or The City for a free half-hour lunchtime meditation session. You will be guided through a mind and body relaxation designed to leave you with a positive and peaceful state of mind. Inner Space describes itself as 'London's oasis of calm and insight' and their well timed 1pm sessions are the perfect way to relax during a busy week at work.
For more information, please see the website.
Chelsea Physic Garden
A beautiful, peaceful spot near the Thames, Chelsea Physic Garden offers a wonderful contrast to the hustle and bustle of London at Christmas. The garden's warm microclimate allows many non-native plants to flourish there, and makes it a pleasant place to visit even in the winter. Home to around 5,000 different plants, the garden was founded in 1673 to train apprentice apothecaries to identify plants. There are still hundreds of medicinal plants in the garden, but it is the hushed, peaceful atmosphere that will restore and rejuvenate you this Christmas.
For more information about Chelsea Physic Garden, please see the website.
The Wellcome Collection
The Wellcome Collections' current exhibition Tibet's Secret Temple brings together over 120 objects to illustrate the history of Tantric Buddhism' yogic and meditation practices. The exhibition also explores how Tibetan Buddhist beliefs and practices inform modern practices of meditation, mindfulness and wellbeing. Overlapping this exhibition, States of Mind: Tracing the Edges of Consciousness begins at the Wellcome Collection in February 2016. Artists, psychologists, philosophers and neuroscientists have come together for this year-long exploration of human consciousness, offering a thought-provoking view of our own consciousness. Visiting these exhibitions should really focus your mind!
For more information about the Wellcome Collections' upcoming exhibitions, please see the website.
Drop-in Drawing at National Portrait Gallery
With a different artist leading the group each week, the drop-in drawing sessions at National Portrait Gallery are a serene alternative to most Friday night activities in London! The sessions are free with all materials provided. Drop in and stay for as long as you like between 18.30 and 20.30. Suitable for all levels of ability, this is a unique and artistic way to de-stress.
For more information, please see the website.
Silence Sessions
Escape the stress and drop your responsibilities for a time at weekly Silence Sessions from 17.30 until 19.00 every Friday. The concept is simple; a silent space away from technology and outside influencers where you can simply be. Although the sessions are held in the Quaker Meeting House, there is no religious element to the events; simply turn up, sink into the silence, and leave whenever you feel like it. Whether you use this time to meditate, pray or ponder, you'll come away refreshed and relaxed.
For more information on weekly Silence Sessions, please see the website.