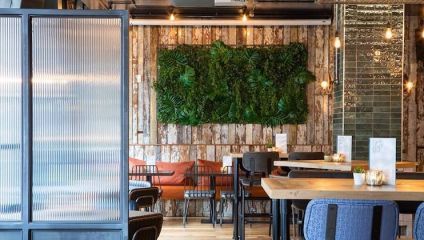 Too many good options in this trendy MCR area
From the break of dawn to the early hours of the night, Manchester's Northern Quarter is the bustling, urban heart of the city. Known for Afflecks Palace, as well as a number of independent record stores, cafes, bars and restaurants, it's established itself as a 'must see' for those who come to visit. In particular, it offers a cornucopia of culinary delights, and here are just a few of our favourites.
Image credit: My Thai Restaurant Manchester via Facebook
---
My Thai
11 John Dalton Street, Manchester, M2 6WH
Just up on Tib Street, My Thai offers a great range of authentic Thai street food without breaking the bank. The flavours are plentiful and they aren't afraid to hold back on the spice, so whether you're looking for a light lunch or a dinner that leaves your trousers straining, this is not to be missed. Overwhelmed by the choice? The Garlic and Pepper Spare Ribs or Crispy Tofu will get your meal off to a flavoursome start. Follow that with the Massaman Curry or the Tamarind Duck and with one bite, you'll find it hard to believe you're not on the streets of Bangkok itself.
---
The Foundry Project
22-10 Thomas Street, Manchester, M4 1DH
Proclaimed as the 'happiest place in Manchester', from their late night cocktails to meals designed to cure the heaviest of hangovers, The Foundry Project has it all. Special mention goes to their Hangover Pizza, featuring glazed smoked bacon, fried egg, onion jam, buffalo mozzarella and hot sauce. The best kind of brunch is the bottomless kind, and with the choice of a main and unlimited Prosecco, Bellini's, Mimosas or Bloody Marys, it would be rude to refuse.
Image credit: Yard & Coop via Facebook
---
37 Edge Street, Manchester, M4 1HW
Ask anybody where you can find finger lickin' fried chicken, and Yard and Coop is a name that you're bound to hear time and time again. With a choice of breast, thigh or drumstick, be it with Chilli Mayo or their signature Bee's Knee's hot sauce, when it comes to customising your chicken you're spoiled for choice. To accompany, grab their dirty fries, loaded with a combination of cheese and BBQ sauces, or choose from a range of their sides, including curried 'Caulibombs', Halloumi Nuggets or Baby Blue Salad. Take if from them - when it comes to fried chicken, they don't cluck about.
---
16 Newton Street, Manchester, M1 2AE
At the peak of Manchester's popularity in the clothing trade, the city was often referred to as 'Cottonopolis'. Located on the same streets where these mills once stood, Cottonopolis Food and Liquor is a Japanese inspired restaurant and bar. Splitting their menu into ice, fire, steam and oil sections, it has quickly becomes a firm favourite of the quarter, with such signature dishes as their Katsu Chicken, Tiger Prawn Tempura and the Pork Bao Buns. They also have a number of smaller, side dishes, such as Pork Harumaki Spring Rolls, Miso glazed Roasted Aubergine and Wagyu Beef Skewers, allowing you to have your pick of the bunch.
Image credit: V Rev Vegan Diner via Facebook
---
V-Rev
20-26 Edge Street, Manchester, M4 1HN
The word 'Vegan' can evoke a lot of preconceptions and questions, but V Rev is there to bust all of those myths. Just one of the myriads of vegan and vegetarian restaurants that the city has to offer, V Rev prides itself in its choice of vegan comfort food, including meat-free hot dogs, burgers and hot wings. Their menu gives you plenty of choice, from their Jalapeno Poppers, offering you a starter with a bit of a kick, to their 'Buffalo The Vampire Slayer' Hot Dog, loaded with cheddar, mac and 'cheez', 'baecon', buffalo sauce and garlic breadcrumbs, there really is something for everybody.