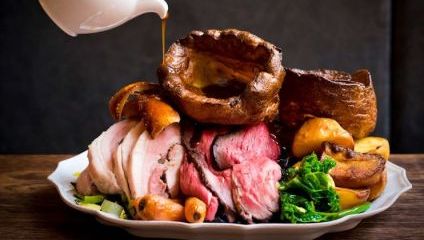 The perfect way to end the week in Manchester
The Sunday Roast. The perfect way to end the week. We've scoured the city and found the best places in Manchester to enjoy a Sunday dinner without the aftermath of a mountain of pots to wash.
---
The English Lounge
64-66 High Street, Manchester, M4 1EA
From the outside, The English Lounge looks like a luxury hotel, but on the inside, it's a touch from home. This traditional English pub is a perfect destination for a 'good old' Sunday lunch. For just £12.95 you can enjoy mouth-watering half a British roast chicken or a cut of 21-day aged topside of beef, and for £12.25 you can choose a veggie Butternut squash tart, all of which comes with bottomless gravy and unlimited yorkies. You can also add a pudding for just £3! The English Lounge also serves up pub classics meaning that it's a perfect spot for families. The pub, situated on the edge of Manchester's famous Northern Quarter, is highly rated for serving great quality meat, as well as being great hosts to all customers due to its exceptional customer service. So, if you enjoy a Sunday roast with your family, in a traditional British pub, then the English Lounge is the place for you.
---
Gorilla
54-56 Whitworth Street, Manchester, M1 5WW
Renowned for being a club and music venue, Gorilla is almost like a hidden gem in Manchester when it comes to grabbing a bite to eat, especially its Sunday Roast. For just £14, you have a choice of three, high quality meats or a vegetarian alternative. Along with all the trimmings, there's the choice of either top side of roast beef, slow roasted pork belly, succulent roast Cheshire chicken and stuffing or for vegetarians, a mushroom and celeriac wellington. If you are a fan of (personally, I think the best item of a Sunday dinner) Yorkshire puddings, then Gorilla is a must visit for you. This is because they are known for making "proper" homemade puddings, giving the meal that extra wow factor! These roasts are available every Sunday from midday and when they're gone, they're gone!
Image credit: Albert's Shed via Facebook
---
Albert's Shed
18-20 Castle Street, Manchester, M3 4LZ
Situated in the Castlefield area (near Deansgate Station), Albert's Shed is renowned for being an upmarket eatery. Its 'rustic meets class' décor makes it a great spot for enjoying a top-quality meal in a top-quality setting. Its high standard à la carte menu does not drop its standards when it comes to the British classic of a Sunday roast. Albert's Shed's Sunday menu is unique in the fact that it offers a choice of a 'roast to share' or a set menu. For the sharing roasts, you get a choice of either a whole, yes WHOLE chicken (£14.95 per person), or a 30oz Tomahawk Steak (£30 per person), served with a fancy selection of sides to compliment the main attraction. For the set menu, one course is £14.95, two courses £17.95 and for three courses £19.95. On the set menu, you get a choice of a roast rump on beef, loin of pork, the day's fish, Malayan chicken or a Lancashire cheese and onion pie. All in all, Albert's Shed is a great spot for an afternoon or evening of fine dining, making it a great place to enjoy one of the country's favourite meals. They also have Albert's restaurants in Didsbury and Worsley!
---
Refuge
Oxford Street, Manchester, M60 7HA
Refuge by Volta, formerly known as the Refuge Assurance Building after the insurance company, is a grand historic building that has been transformed into an elegant fine dining venue. If you are looking for a restaurant that will make you feel like you are in the upper echelon of society, this is the venue for you. Its exquisite all-day Sunday roast menu is the place to look if you are after an unforgettable Sunday Roast experience. For £17, you get the choice of either rump of beef, suckling pig, half roast chicken infused with garlic, thyme and butter or a vegan roast (£15). This comes with all the usual trimmings to complete a luxurious Sunday dinner. They also offer a roast platter for two for £39, which includes a little bit of everything. Refuge also has a Winter Garden as well as a bar, making it a great place to enjoy a Sunday afternoon in a classy venue. Be sure to start the meal with a master Bloody Mary to help cure the woes of the night before.
Image credit: The Albert Square Chop House via Facebook
---
The Albert Square Chophouse
14 Albert Square, Manchester, M2 5PF
Situated, as expected, in Manchester's famous Albert Square, the chophouse is a touch of class, as well as a touch from the past. The exterior is grand, resembling a timely, posh hotel, whereas the inside resembles a traditional, truly British pub. The food is highly rated and is known for serving "classic British cooking with a modern twist". On a Sunday you can choose from roast Goosnargh chicken, slow-roast pork belly, garlic and rosemary roast shoulder of lamb and a variety of fish and veggie options. These all come with the must have Sunday trimmings, or you can choose a regular pub grub dish such as fish and chips or a Chop House burger. You will not be disappointed by the food due to the high standards that the workers maintain, making it a great place to enjoy that end of week luxury. So, if you enjoy the good old traditional British roast dinner and want to enjoy it in a truly British venue, then The Albert Square Chophouse is the place for you.