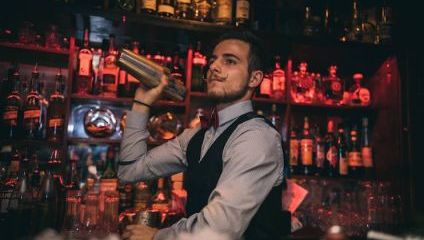 Spilling the beans on the capital's best hidden bars

Spilling the beans on the capital's best hidden bars...

Spotlight on: The Gobpsy
In case you thought you'd suddenly forgotten how to read, yes, this new bar is called the Gobpsy, no matter how much autocorrect might disagree with you. Hidden away under a working barbershop (beware of flying razors), you'll have to play along in order to access the bar – which is a lot of the fun of it, of course. Having entered the shop, you'll first be welcomed by a Gatsby-esque host, who will at first deny the existence of any such bar. But if you manage to quell her suspicions, you'll be able to push past the inconspicuous towel shelf at the back of the shop to descend the stairs to the bar.

Ah, but not so fast – first you'll have to convince the big boss that you're cool to come in, too. Then, finally, you can enjoy a well-earned cocktail in the intimate, low-lit bar, decorated with just a splash of 1920s ambience. The drinks choices are as eclectic and creative as the bar itself, with flavours ranging from chocolate orange to smoked paprika and tamarillo. Don't miss the happy hour either – and as it's every day between 5 and 7, it's hard to.



Image © Evans and Peel Detective Agency via Facebook

Best of the rest:
Barts
What? The original London speakeasy
Where? South Ken
Why? Set up in the '20s by bootleggin' Chicago gangsters, this is the real deal, and some fun and quirky features (the menus are hidden in the bookcases, for example) remain

Evans and Peel Detective Agency
What? The full-on secret bar experience, with passwords, interrogation, the whole lot
Where? Earls Court
Why? If you really want to act out your speakeasy dreams, this is the place to be, plus, of course the cocktails, and fodder from the in-house smoker

69 Colebrooke Row
What? A nameless bar from bar big-name Tony Conigliaro
Where? Tucked away behind Upper Street
Why? Brilliant cocktails made with esoteric ingredients developed in the Drink Factory – the research and development laboratory located near Broadway Market – and no ridiculous price tag

Cellar Door
What? A former public toilet that's now an LGBT-friendly bar small enough to swing a cat
Where? Aldwych
Why? If you want to rub shoulders where Oscar Wilde, Joe Orton and John Gielgud used to sup a drink, this is where to go