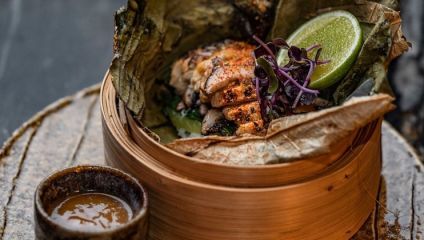 Enjoy 'heart's delight' in Manchester with these bite size Chinese dishes
---
Spotlight on: Tattu
Gartside Street, 3 Hardman Square, Spinningfields, Manchester M3 3EB
As soon as you step inside Spinningfield's Tattu, you instantly know you're in for something a little bit special. From the giant suspended wooden anchors tied up with rope downstairs, to the dark wood, tattoo-like artwork and the giant, wait for it, pink-lit cherry blossom tree in the centre of the upstairs restaurant, this is more of a sensory experience than it is your standard meal out.
Founded in 2015 by two brothers, Tattu has expanded from its Manchester original, with restaurants now open in Leeds and Birmingham and further plans in the pipeline, and whilst each restaurant has its own unique aesthetic, the shared vision and attention to detail is evident across all three. This vision extends to more than just the décor as the food itself looks almost too good to eat. The innovative menu offers unique twists on Chinese cuisine, with guests encouraged to share plates to sample a mix of the menu. The dim sum game is strong, with Wagyu Dumplings, Spicy Iberico Pork Wontons, Beef and Foie Gras Gyoza and Xiao Long Bao being particular highlights, all looking ridiculously pretty but providing a rush of flavour on first bite.
Although not dim sum, the desserts have to be seen to be believed, with the Cherry Blossom being the star of the show, presented as a mini cherry tree just to finish off a night of decadence. Whether you're looking for a luxurious lunch with their selection of daytime dim sum deals, or a full-on treat yo' self celebration, Tattu offers an escape for your senses right in the heart of the city.
Image credit: Yang Sing via Facebook
---
Best of the rest:
34 Princess Street, Manchester, M1 4JY
What? A multi-floor family restaurant established for over 40 years.
Where? In Manchester's Chinatown.
Why? Its colossal sweet and savoury dim sum menu features all your favourites and a few surprises.
1 Lincoln Square, M2 5LN
What? A relaxed Cantonese restaurant popular with the local famous faces.
Where? Just off Deansgate.
Why? With 5 dim sum platters available, you can indulge in a little bit of everything on offer.
---
Sweet Mandarin
19 Copperas Street, Manchester, M4 1HS
What? A family restaurant with authentic food from generations past in a modern setting.
Where? The Northern Quarter.
Why? Go for a taste of recipes passed down and reinvented. Try the Beijing pork and chive dumplings.
33a Cross St, M2 1NL
What? A relaxed place for a bite if you don't fancy going to Chinatown.
Where? Not in Chinatown.
Why? The dim sum selection is plentiful with dumplings, buns and gyoza galore, and with 3 dishes for £10 from midday to 6pm on weekdays it's a perfect long lunch treat.