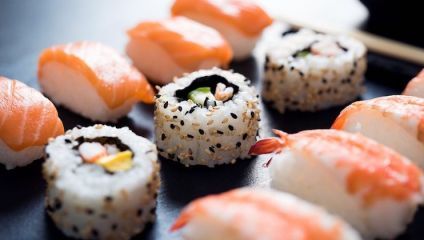 Tasty East-Asian cuisine in the heart of Manchester
---
Spotlight on: Sakura Japanese Restaurant
175 Cheetham Hill Road, Manchester, M8 8LG
An all you can eat buffet has the potential to be quite hit and miss – after all, who wants to eat food that's been sat out all evening? This Japanese restaurant combats that with tapas style dishes, a superfast kitchen and an electronic way of ordering! When you sit down, you're handed a tablet presenting a vast menu of sushi, curries, soups, teppanyaki dishes and deep-fried treats, and you order the dishes as and when you fancy them! Each person can order a maximum of five dishes each order, and there's a nine-minute gap between each order which stops you over ordering. Dishes get delivered as and when they're ready, leaving you to eat as much (or as little) as you fancy.
With such a large amount of food on offer it's no surprise that this option is a tad pricey. It's £23 per person (including all you can eat mains and desserts) and a 10% service charge is added to every table. However, they do offer plenty of good deals such as 3 for 2 lunch and dinners when pre-booked and Monday and Tuesday student discount. You can Happy Hour cocktails all-day, every day on Fridays!
---
Best of the rest:
---
Sapporo Teppanyaki
91-93 Liverpool Road, Manchester, M3 4JN
What? Atmospheric restaurant where expert chefs prepare your meals in front of you.
Where? Just minutes from the Science and Industry museum.
Why? Tasty dishes, quality ingredients and a relaxed and entertaining atmosphere makes this spot a must-visit for a weekend night out. These teppanyaki chefs perform as well as cook, preparing dishes with flair, terrifying knife skills and roaring fires.
---
Samsi
36-38 Whitworth Street, Manchester, M1 3NR
What? Fresh and tasty Japanese food with excellent offers on.
Where? Just around the corner from Piccadilly station.
Why? Samsi has been a Manchester favourite since 1993 thanks to its fresh ingredients, tasty dishes and decent prices! Grab a Bento box for a little bit of everything, prices ranging from £5.95 to £15.95 per person. They also offer a three-course lunch deal for under £10!
---
Yakisoba
360 Barlow Moor Road, Chorlton, Manchester, M21 8AZ
What? Pan-Asian dining with a huge menu.
Where? In the centre of Chorlton, just a short distance out of the city centre.
Why? This Chorlton favourite offers absolutely heaps of noodles, soups and curries from Japan and beyond. They offer a super popular Crispy Mock Duck for veggies who miss their favourite Chinese takeaway starter!