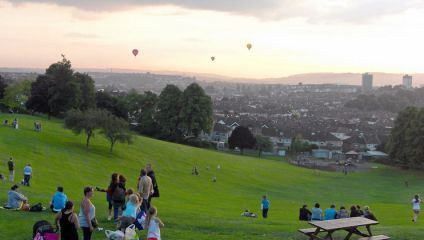 You're never far from a great view in Bristol
The hilly geography and scale of Bristol means that you are never far away from a great view. Roads all over the city calmly bend round corners, revealing unexpected and magical sights. This does of course make for some anxious driving (Vale Street is actually the steepest in England) and some embarrassingly out of breath moments… but it's great for grabbing an inspiring view. Bring your camera or forget technology altogether at some Bristol's most revered views.
Image credit: Community of Perrett's Park via Facebook
---
Perrett's Park
2 Bayham Road, Bristol, BS4 2EA
Perrett's Park is the former location for the Bristol Balloon Festival which should tell you something about the view you will see. An excellent location for sledding when there is snow (see above!), the park feels like a giant bowl that has been tipped forward slightly. The resulting effect is a really impressive view towards the nearby Perrett's Park Allotments and the Clifton Suspension Bridge in the distance. Magical.
Image credit: Clifton Suspension Bridge via Facebook​​​​​​​
---
Clifton Suspension Bridge
Bridge Road, Leigh Woods, Bristol, BS8 3PA
Bristol's most iconic site (or would it be sight?), the 150-year-old Clifton Suspension Bridge is a stunning place to view both the city lights and Somerset's endless rolling hills. Spanning the Avon Gorge, this undeniably magnificent bridge once noted by Brunel as 'My first love, my darling' is truly a celebration of mankind's engineering ambition. Stop by the Visitor's Centre afterwards and if you have time. The beautiful suburb that is Clifton Village is a short walk away and well worth it.
Image credit: George Maguire
---
Cabot Tower
Brandon Hill Park, Just off Park Street, West End, Bristol
A clear favourite of locals, the 105ft tall Cabot Tower perches in Brandon Hill Park, just off the hub that is Park Street. A relatively small tower with a tight, winding staircase, the view from the top is quite surprising to newcomers; a truly panoramic view in all directions. Brand Hill Park is a squirrel filled park, with plenty of gardens, water features and space to explore. Check out the recently opened Patagonia store on Park Street if in the area, or the unbeatable chocolate masters at Mrs Potts Chocolate House…
Image credit: M Shed via Facebook​​​​​​​
---
M Shed Balcony
Princes Wharf, Wapping Rd, Bristol, BS1 4RN
This roundup wouldn't be complete without a view of the Harbourside. A great place to do so is from the M Shed Balcony; where you can see water spanning out in all directions. Catch a glimpse at some inevitable water sports going on (often rowing, but also stand up paddle boarding known as SUP), locals relaxing and the city skyline in the background. Don't miss the cranes…
Image credit: Ashton Court Estate​​​​​​​ via Facebook
---
Ashton Court Estate
Ashton Court, Long Ashton, Bristol, BS41 9JN
If you are after less of a man-made view, Ashton Court Estate is the place to go. Stroll around deer filled pastures, oak tree woodland paths and soak in the hues of nature. Possibly the best feature of the estate is the scale of it; there is plenty of space so you can enjoy the view in peace…