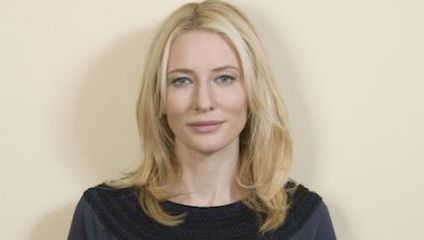 She's played a queen, an elf and a socialite in some of Hollywood's biggest blockbusters, but actress Cate Blanchett is returning to indie cinema in Song to Song, Terrence Malick's latest film about the Austin music scene. Here the former Brighton resident talks about the new film and her ambition to connect with the countryside.
"Recognition is important provided you don't let yourself get too carried away by it. You need to keep your feet on the ground even though the attention can be flattering," says Cate Blanchett, one of the biggest film stars of her generation, before adding coolly, "That's one of the reasons I hate Twitter and selfies."
Cool is the perfect way to describe the 47-year-old Aussie who comes across as both ice-maiden unapproachable and effortlessly hip. Lately the actress has been spotted in New York, where she is currently starring in a play - written by her husband of 20 years, Andrew Upton - wearing an array of outlandish fashion like leopard print coats and baggy leather trousers. She may always look composed and in control, but she rarely blends in, making her decade-long residence in Brighton seem all the more surreal.
Cate Blanchett
Blanchett loved her time by the British seaside. So much so that when work required her to relocate her family back to Sydney, she remarked, "'I miss Brighton enormously. There is so much I miss, including the rain. I miss the verdant countryside." It was during the early years of their marriage, and before their children that herself and Upton had their four-storey Georgian home on the seafront. It's easy to see why the city would suit Blanchett: her bohemian flair and easy elegance, and even her penchant for the odd extravagant purchase - like the £2,000 marble bathtub which needed to be lifted into the house by a crane - is all perfectly in keeping with a place that has its own Orient-inspired palace.
Having conquered the big screen over a career spanning 20 years, Blanchett takes a mixed-bag approach to her work these days, flitting from commercial projects - she recently completed work on Ocean's Eight, the female spin-off in the billion-dollar Ocean's franchise - to tenures onstage and more lo-fi endeavours like the soon-to-be released Song to Song, directed by revered filmmaker Terrence Malick. It's a dream gig for Blanchett, who enjoys the free-form approach.
"Working with Terry is a fascinating experience. He often shoots without a script and without any prepared dialogue and he wants his actors to take a journey with him," purrs the actress. The Badlands director also has a habit of cutting actors out entirely, regardless of their prestige, as he shoots vast amounts of unscripted scenes and assembles the film during the edit. But this free-form, narrative style can't unsettle a pro like Blanchett, who says with a shrug: "He's trying to break down the usual structures and rules about filmmaking. It's like working with a poet as much as with a director - he describes his process as 'going fishing'."
Cate Blanchett
The film promises 'obsession' and 'betrayal' as it tells the tale of two intersecting love triangles amid the creative soup of the Austin, Texas music scene, with guest appearances from the likes of Iggy Pop and Patti Smith. The locale may have felt familiar to Blanchett - Austin has often been compared to Brighton for its flourishing creativity, gaggles of indie kids with guitars and the SXSW Festival, which, like our very own Great Escape, is spread across multiple venues, turning the entire town into a giant mosh pit.
This talk of youthful pursuits begs the question of how Blanchett feels about nearing 50 in such a fickle and ephemeral industry. "I just accept it," she says firmly. "Getting older happens to all of us and there are many advantages that come with age. I feel much more comfortable in my skin today than I ever have before. I am much more confident and secure in who I am than when I was in my twenties - I would never want to go through those years again!"
Now Blanchett has re-acquainted herself with Sussex, purchasing Highwell House in nearby Crowborough. The imposing 13-acre estate is rumoured to have cost around £3million and was once home to Sir Arthur Conan Doyle. It's a fitting abode for a woman who portrayed Queen Elizabeth I with such finesse it scored her two Oscar nominations and who, when asked if she has any remaining goals, replies: "I'd love to become better at gardening. My mother was a wonderful gardener. She had a fabulous green thumb. I would like to cultivate one of my own! Combining that with a few more trips to Brighton to soak up the arts and culture would be just about perfect!"