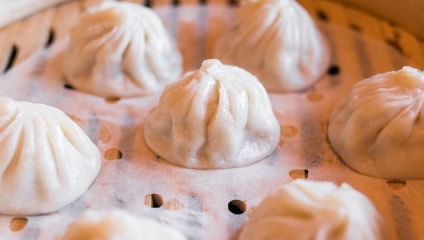 One of Oxford's strongest and most popular dining options is its Chinese cuisine, with the dim sum on offer as good – if not better – than a lot of what you'll find in London. Before the university town's relatively recent gastronomic revival, the Cantonese staple was a firm favourite. Here's some inspiration...
---
SoJo
Image Credit: Andrew Crowley
On a tight budget and craving dim sum? SoJo should be high on yo ur agenda. I have fond memories of visiting the restaurant, scraping together £20 for lashings of chicken and copious beers. Though after Giles Coren's glowing review in The Sunday Times in 2009, it has since become slightly more difficult to stroll in late on a Friday night with a raucous group. In any case, SoJo lives up to the hype and arguably serves up some of the best dim sum in Oxford - and anywhere in Britain, most likely. While you can find classics such as crystal prawn dumplings and chicken buns, the menu also offers more adventurous dishes such as 'beef stomach.'
---
Zheng
Image credit: Ellie, 'Eat, Play, Live'
The menu at Zheng is extensive, the type you are still scanning over as you help yourself to a second serving of prawn crackers. While dishes on offer range from authentic Malaysian and Singaporean, to Cantonese stir-fries and Shanghai braises, the dim sum options are also blisteringly good, and should be explored.
---
Shanghai 30s
Image credit: @henryaug
Shanghai 30s is a breezy affair. Lighthearted and fun, it's a place to celebrate a birthday as opposed to a romantic date. The food is inexpensive. With dim sum dishes as low as £3.20, Shanghai 30s is a markedly cheaper option than both SoJo and Zheng. For a real bargain, stop by for lunch and enjoy a set dim sum menu for only £10.50.
---
Paddyfields
Image credit: [url=http://www.foodanddrinkguides.co.uk]http://www.foodanddrinkguides.co.uk[/url]
Always buzzing, Paddyfields is is located opposite SoJo in Oxford's miniature Chinatown. Specialising in Cantonese cooking, the restaurant is fiercely authentic, in service and food. A favourite among local Chinese students, expect noise, hurried service and, most importantly, great dim sum.