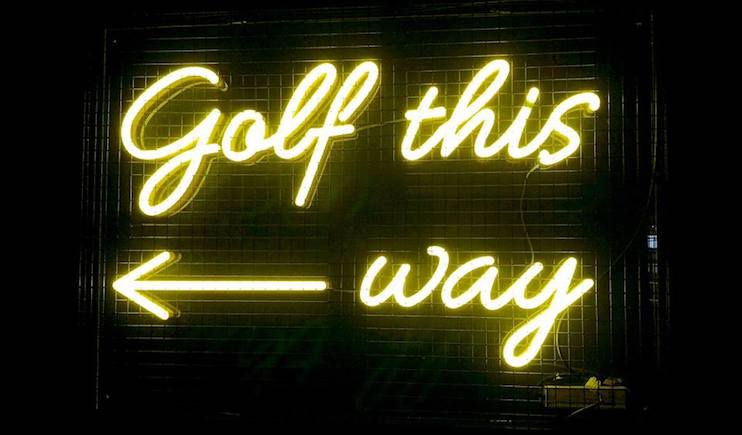 Teeing off this weekend could be your new favourite night out - mini golf, with booze. The popularity of bars such as Swingers in London has started a trend of activity bars, and the easy and fun nature of crazy golf makes it the perfect new night on the town. Perfect for a first date (much less awkward than making small talk) and ideal for a big group of friends, this cheap and cheerful hobby is the ultimate excuse to get a round in. Keep reading for our round up of the best crazy golf venues from Manchester to Oxford.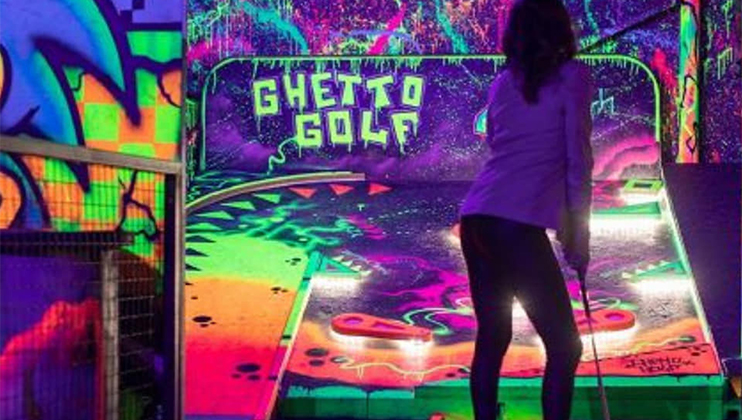 Image credit: Ghetto Golf UK via Facebook
Liverpool, Birmingham, Newcastle, Glasgow
Ghetto Golf combines some of the concepts that we love most here at Culture Calling; theatre, cocktails, DJ's, street food, and of course, crazy golf. Aesthetically, their bars are an ode to the original New York street art, and their walls are lined with neon tags from ceiling to floor. The 18 holes range from hilarious and kitsch to scary and risqué, earning its reputation as a true adults-only bar - think Minions giving you the finger and scary Exorcist models. Better yet, their bars are made up of scrap heap materials in a bid to encourage ethical sourcing, and they use artwork from local graffiti artists.
Cocktails take centre stage on this mini golf adventure, with bespoke cocktails all being served in frat party red plastic cups and garnished with Reese's Pieces, Love Hearts and other retro sweets. All 10 of their cocktails range from £6.50-£7 so think about lining your stomach -- food at Ghetto Golf is expertly grilled by Apocalypse Cow, who offer small tapas plates for sharing (or not sharing), loaded fries, burgers and nachos. Golf for 1 person costs a tenner and is already a big hit in their existing locations, with a new Sheffield venue coming soon.
---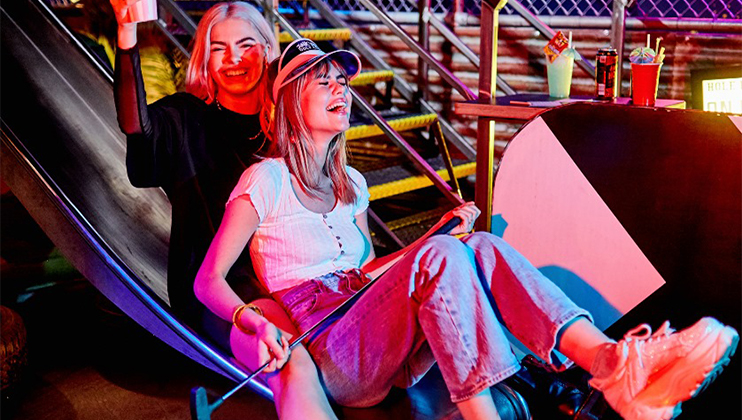 Image credit: Junkyard Golf Club via Facebook
London, Oxford, Leeds, Liverpool and Manchester
Welcome to the self-declared home of crazy golf, weird cocktails and all things junk. If a junky night out sounds like fun then Junkyard Golf is the one for you. Neon and UV lights feature prominently, and expect flashing lights and booming music. With three golf courses to choose from (Gary, Bozo or Pablo) you can work your way through a UV scrapyard, a dark and twisted circus or a polluted tropical jungle. This place is awash with pop culture puns, such as Bitch Don't Kill my Tribe (an Aztec jungle themed hole) and Ferris Ballers Play Off (a Ferris wheel in their twisted circus course).
The puns continue with their cocktail and food menu that was created with grown-up kids in mind. Cocktail name highlights include Post Malone, Don't Tequila My Vibe and the Hotline Ting. You can also grab a 'slush puttie' which include frozen daiquiris or a variety of flavoured frozen margaritas. Food is an American fast-food dream, with chilli dogs and nachos at extremely reasonable prices. Popcorn or Pick 'N' Mix is an option for those of you who's sweet tooth wasn't satisfied by the 'Porn in the USA' cocktail. Tickets for Junkyard range between £8 and £9.50, and if you fancied making it a family day out then under 18s are welcome Sunday- Wednesday, before 7pm.
---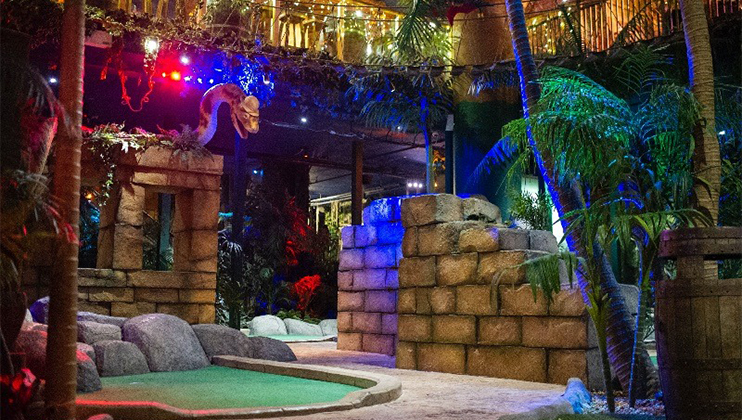 Image credit: The Lost City of Adventure Golf via Facebook
Nottingham, Belfast and Hull
For the ultimate golfing adventure, look no further than The Lost City. Unlike our other featured crazy golf bars, Lost City is a mini golf venue suitable for all ages and prides itself on being a family friendly spot. Completely wheelchair and pushchair accessible, everyone can enjoy mini golf in Nottingham, Belfast and Hull. Your golfing adventure options are perfect for any aspiring Indiana Jones, with the rainforest-themed Sacred Skull, Explorer Falls or Cobra Canyon courses. The goal after the 18th hole is the sought-after Inca Gold, and along the way you're likely to meet alligators, Bengal tigers, and crumbling talking rocks.
Fancy leaving the kids at home? The Tiki bar is the final stop on your adventure for grown-ups. At only £6.50 their cocktails are sure to go down smoothly. They've got a Ting Can (who doesn't love a hard to come by can of Ting?) and a Passion Fruit Daiquiri, as well as a selection of beers, wines and spirits. For big groups, they offer cocktail masterclasses which include two free drinks per person. The Lost City offers tickets between £6 and £8 and kids are welcome any time!
---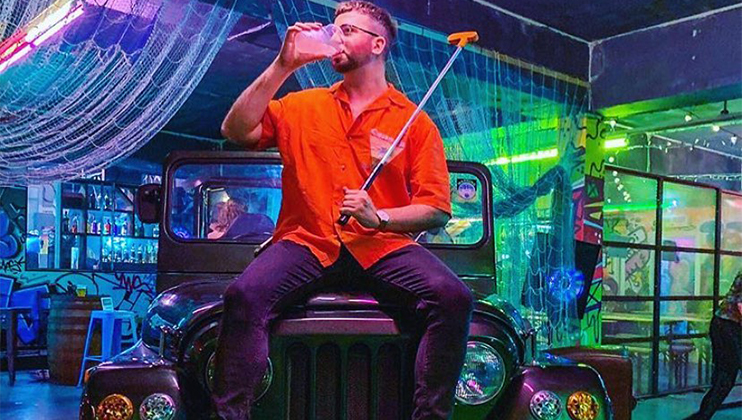 Image credit: Caddyshackers via Facebook
Leicester
Leicester's one and only crazy golf bar is big, bad and bold, and this venue is for the real kids at heart. This bar is a godsend for students who are sick of Vodka Revs. For a night out with a difference, Caddyshackers offers mini golf as well as pool tables and ping pong for when you're all golfed out. This place is no stranger to a selfie, with prop fake cars and neon signs that are totally Instagram-worthy.
As per, the drinks at Caddyshackers are mainly cocktail based, however, they include a healthy list of mocktails and milkshakes for responsible golfing. This golfing venue also shares its kitchen with their sister venue East Street Lanes, serving up pizzas, burgers and American snacks to keep your energy levels up. Students, teachers and NHS workers can get golfing for just £6, and family tickets are available (kids are welcome before 7pm) throughout the week.
---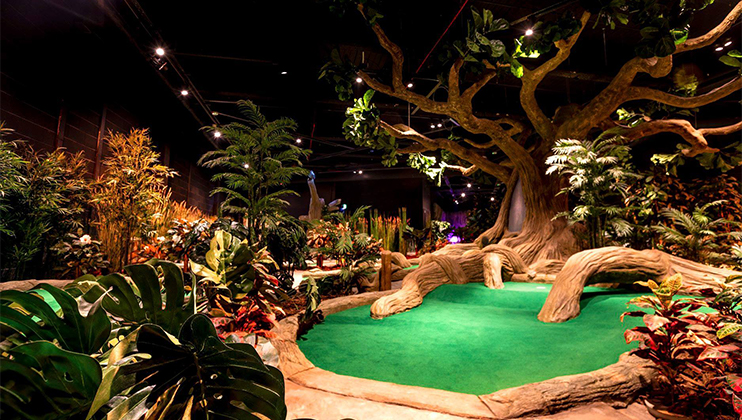 Image credit: Treetop Adventure Golf Manchester / via Facebook
Cardiff, Manchester, Leicester and Birmingham
This family and student-friendly mini golf adventure lets you get lost in a tropical rainforest canopy, and explore their two courses - Tropical Trail and Ancient Explorer. If, after all that golfing, you can brave the bonus hole, you can win a free round!
For a taste of tropical treetop flavours, grab a bite from Pizza Cabana, or cocktails and craft beers from the Thirsty Toucan bar. For you day-time golfers, caffeinated pick-me-ups and sweet treats are available from the Rainforest Roast Café too. If you're here for a night out, try out their sunny cocktail flavours like Margarita Fever or Goji Cosmo -- for the teetotallers, non-alcoholic mocktails include Treetop Sunrise or Nature's Nojito.
Making time for golfers of all ages, students can take advantage of savings from Sunday 5pm - Friday 5pm, with one course for £8 or two courses and a drink for £12! 'Quiet time' is also provided for those who prefer no sounds and flashing lights on the second Sunday of every month, and those 60+ can enjoy discounts any time, any day!
---