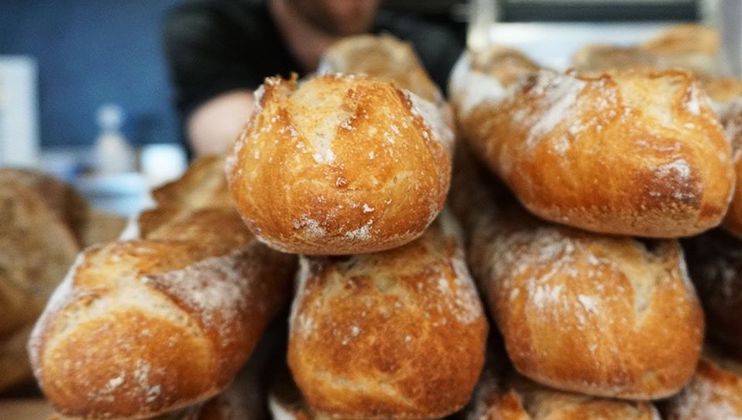 Celebrate 'La fête des rois' with a Galette or similar French cuisine
The Galette des rois is a French frangipane tart eaten around Twelfth Night, which hides a "fève" - literally a "bean" or in this case a small trinket, usually made of porcelain. We think this is the perfect excuse (not that you need one) to seek out the best French bakeries this side of the Channel…
---
Bertinet Bakery
1 New Bond Place, Bath, BAI IBH
The UK's masters of French bread can be found in Bath city centre, where Bertinet Bakery have been baking since 2008. Founded by the baker Richard Bertinet (who was awarded the BBC Food Champion of the Year two years after opening up), these guys spent four years selling bread fresh from the Bath cookery school before opening up a boulangerie. Their signature loaves are now sold in various branches of Waitrose across the country for those who can't make it to Bath. Those who can pop into the bakery can pick up fresh loaves and endless French pastries and treats, including their signature golden-brown croissants.
---
Bisous Bisous
663 Wilmslow Road, Didsbury, Manchester, M20 6RA
83 Deansgate, Manchester, M3 2BW
Two of our favourite French bakeries can be found in the wonderful city of Manchester, the first of which is Didsbury's Bisous Bisous. This classic patisserie has been serving tasty treats in south Manchester since 2014 and opened up a city centre branch on Deansgate just last year. Their pretty pastel stores feature rows and rows of beautiful desserts, wonderfully decorated confectionary and brightly coloured macaroons. They even offer full size gâteaux's and delightful fruit tarts for celebrating a special occasion. These guys won the Observer Food Monthly Award for Best Producer in 2017, and their ever-popular bakeries prove that their standards haven't slipped since then.
---
Patisserie Liberté
10 Hilton Street, Manchester, M1 1JF
And our second favourite for Manchester is the Northern Quarter's welcoming café-come-boulangerie, Patisserie Liberté. Rows of eclairs, pastries and, of course, macarons line the counters in this charming café, and luxury teas and coffees can be enjoyed alongside these. This sit in café offers breakfast and lunch throughout the day, as well as a tasty Afternoon Tea filled with various indulgent bakes. A popular choice for French residents of Manchester, this bakery also imports lots of classic French treats from across the channel, making it the best place to pop into for jams, biscuits and nuts.
---
Real Pátisserie
43 Trafalgar Street, Brighton, BN1 4ED
25 Western Road, Hove, BN3 1AF
Unit 2, Open Market, Marshalls Row, Brighton, BN1 4JU
147 Church Road, Hove, BN3 2AE
It's hard to miss Real Patisserie during a trip to Brighton, after all they have an impressive four bakeries. You can also purchase their ethical and sustainable wares at Kemp Town's Open Bakery if you're in that neck of the woods. Breads, desserts and pastries are baked in-store at each venue, with glass partitions letting customers watch the expert pâtissiers at work before parting with their cash. Breads, tarts, desserts and petit fours are all served in abundance here at the Real Patisserie, and their wholesale bakery on London Road also serves delicious bread to spots in and around East Sussex. Seasonal treats are, of course, highly esteemed, so head down throughout the festive period for a freshly baked mince pie or a tasty Turkey Sandwich.
---
Anna Cake Couture
7a Boyce's Avenue, Clifton, Bristol, BS8 4AA
Head to Bristol's lovely Clifton area to find an extremely aesthetically pleasure French patisserie. Specialising in beautiful cakes and brightly coloured macarons, this pretty pastel place is a great spot for afternoon tea andyour daily Instagram post. Delightful flavour combinations can be found in rows of Cubicakes available to eat in or take away, with our favourites being the Rose, Raspberry and Pistachio or the Malted Date Cake dessert. The team here at Anna Cake Coture are in their element when producing bespoke wedding and celebration cakes to order, and if you grab the best seat in the house, you'll be able to watch expert pâtissiers work their magic in the bakery kitchen.