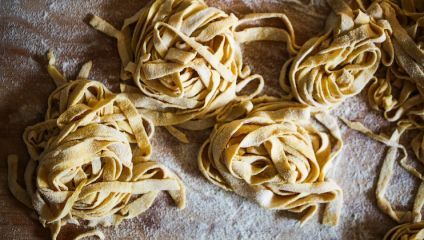 As the weather gets cooler, there is nothing quite as comforting as tucking into a big bowl of pasta. Yes, it's easy and relatively cheap to make at home, but there's something unbeatable about fresh, handmade pasta. Sample the very best with our pick of the country's top restaurants to carb-load.
---
Padella, London
Image credit: Padella/ via Instagram
Freshly prepared every day, Padella's superb hand-rolled pasta dishes have locals and visitors queuing around the block. Named the best spot for cheap eats in Britain at the Observer Food Monthly Awards 2016, the Borough Market restaurant is the perfect spot to indulge without spending a fortune. While the concise menu features a signature 8-hour beef shin ragu (served over pappardelle), the star is undeniably the pici cacao e pepe ('cheese and pepper') - simplicity at its best.
Padella can be found at 6 Southwark St, London SE1 1TQ
---
Sotto Sotto, Bath
Image credit: Sam Farr
Voted the best Italian restaurant in Bath, you won't be disappointed with Sotto Sotto's mouthwatering pasta dishes. Vegetables, seafood and meats are all sourced locally and the classic Italian menu focuses on simple cooking with a contemporary twist. From linguine peppered with fresh seafood, to perfectly cooked risotto, each dish is guaranteed to satisfy any pasta craving.
Sotto Sotto can be found at 10 N Parade, Bath BA2 4AL
---
Salvi's Cucina, Manchester
Image credit: Salvi's/ via Instagram
In the heart of Manchester, family run Italian restaurant Salvi's offers a wealth of rustic pasta dishes. Flying in only the best ingredients, sourced from suppliers back in Naples and Sorrento, the passion for the produce is evident in each and every dish. With a laid-back atmosphere, friendly staff and hearty servings, Salvi's is a must for a fabulous meal and authentic taste of Italy.
Salvi's Cucina can be found at 19 John Dalton St, Manchester M2 6FW
---
Marocco's Italian Restaurant and Café, Hove
Marrocco's Italian Restaurant Hove/ via Facebook
While Marocco's may be renowned for its ice-cream, the small Italian seafood restaurant also produces some exceptional bowls of homemade pasta. Situated on the Brighton/Hove seafront, Marocco's is a cosy affair and the relaxed, welcoming atmosphere only adds to thisa fantastic dining experience. Of course, no meal could be complete without sampling one of their famous homemade ice-creams, which have enticed generations of loyal customers since 1969.
Marocco's can be found at 8 King's Esplanade, Hove BN3 2WA
---
Lanterna Ristorante, North Yorkshire
Image credit: Lanterna Ristorante
Wander down a small North Yorkshire side street, and you will stumble upon Lanterna Ristorante. A Yorkshire institution, the Italian eatery has been serving Piedmont influenced fare for almost 40 years. The pasta is handmade, and the refined cooking and high quality ingredients are apparent in each bite. Order the Agnolotti Monferrini (pasta filled with beef, pork, parmesan cheese and spinach with a roasted beef sauce) - delicious.
Lanterna Ristorante can be found at 33 Queen St, Scarborough YO11 1HQ
---
La Lanterna, Glasgow
Image credit: La Lanterna
Named the 'Best Restaurant in Scotland' at the 2017 Italian Awards, La Lanterna is dedicated to producing only the finest Italian dishes, including what many consider to be Glasgow's best plates of pasta. The city's oldest family-run Italian restaurant naturally makes their own pasta, which, coupled with an award-winning wine list and warm, first class service, has garnered rave reviews and a loyal customer base. For a taste of Italy without the flights, there is simply no better.
La Lanterna can be found at 35 Hope St, Glasgow G2 6AE