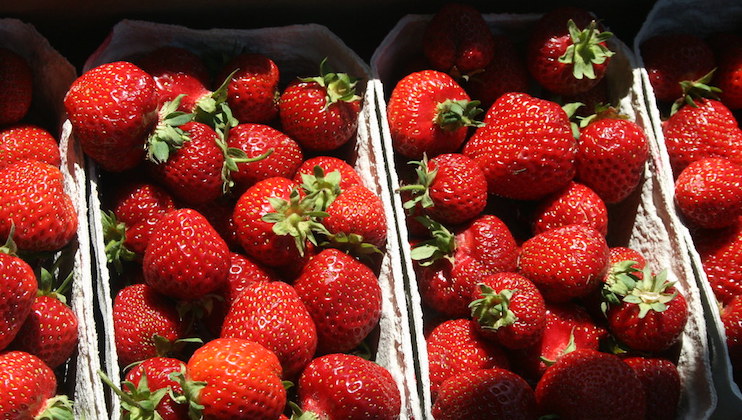 Strawberry season is here, so start planning your wholesome fruit picking summer!
Whether you love them with dollops of cream, turning them into jams or in a cold glass of Pimms, nothing say summer like a fresh strawberry. For the freshest choice, why not pick your own at the best fruit picking farms in the UK countryside!
---
Peterley Manor Farm
Peterley Lane, Great Missenden, Buckinghamshire, HP16 0HH
Situated in the Chiltern Hills, Peterley Manor Farm has been in the same family for four generations, and was a derelict turkey farm before it became the pick-your-own paradise it is today. There are raspberries, blackberries, redcurrants and blackcurrants to harvest (priced at £4.60 per kilo) as well plenty more produce to purchase in the farm shop, including home-grown vegetables, local cheeses, bacon, sausages, and a range of artisan jams, chutneys and condiments. Fruit picking can be thirsty work, so you can also head to the Wild Strawberry Café, a pop up restaurant in a quirky yurt that serves brunch, lunch and afternoon tea. For the best pick-your-own experience plan a trip for June or July, when the summer berries are at the peak of their season!
Image Credit: Craigie's Farm Shop & Cafe via Facebook
---
West Craigie Farm Shop
West Craigie Farm, South Queensferry, Edinburgh, EH30 9AR
For a taste of rural life just outside of bustling Edinburgh, head to Craigie's Farm Shop! There's a vast range of produce to pick, including strawberries, rhubarb, raspberries and gooseberries. The farm update their website and Facebook with a 'fruit crop report' when the crop is ripe and raring to go, which should be in early-mid June. There's also loads more to do whilst you're there. From tractor rides to a kid's play area, to meeting the farm's pygme goats, pigs, ponies, sheep and chickens, there's something for everyone to get involved in, there's even the promise of a bone for your family dog when you visit the onsite butchery (but maybe don't visit after you've just befriended a cute little piglet!).
Image Credit: Bellis Brothers via Facebook
---
Bellis Brothers Farm Shop and Garden Centre
Wrexham Road Farm, Wrexham Rd, Holt Village, Wrexham, LL13 9YU
Located in the beautiful Dee Valley, the Bellis Brothers Farm Shop is a family business that dates back to 1860! In its currant form (pardon the pun), it offers pick your own services for various produce depending on the season (this season they will have strawberries, raspberries, gooseberries, tayberries, loganberries, redcurrants, blackcurrants, rhubarb, peas and beans) as well as a comprehensively stocked farm shop come garden centre, an onsite butchery team and locally sourced deli counter. Their shop stocks expert jam making tools, ideal for a budding jam maker with an overabundance of fruit! You can also come back in October and pick your own pumpkin ready for Halloween. Their summer fruit picking season begins mid-June 2019.
Image Credit: Ansty PYO & Farm Shop via Facebook
---
Ansty, Salisbury, Wiltshire, SP3 5PX
Through August at Ansty PYO & Farm Shop, you can expect to be able to feast your fruit picking fingers upon a range of strawberries, gooseberries, raspberries, tayberries, loganberries, blackcurrants, redcurrants and blackberries. Here at Ansty they have a unique way of growing strawberries which results in a remarkably plump and juicy crop. By growing their fruit on tables it makes them easier to pick whilst also protecting them from the inevitable wet conditions of a British summertime. If not content with the fruits of your labour, you can buy extra goodies from the farm shop, or you can relax in Ansty's tea room, which features multi award winning cakes. You can even get lost in their very own maize maze (seriously, one woman got so stuck once they had to go in with torches to find her), which, being opening in 1999 was one of the very first in the country.
Image Credit: Over Farm via Facebook
---
Over Farm
Over, Gloucester, GL2 8DB
Just a mile from Gloucester city, Over Farm specialises in perfectly plump and juicy strawberries! Strawberries cost £6.50 per kg, but there's also a chance to make money on 4 August, when the lucky picker that finds the golden strawberry hidden on the field is in with a chance of winning a £100 cash prize. But this isn't the only incentive to head to Over Farm, as they have endless attractions and events over the summer including numerous outdoor cinema events and open-air theatre productions. Head there this summer for an outdoor screening of Bohemian Rhapsody or Mama Mia: Here We Go Again, or grab tickets to Barn on the Farm, a music festival which will see Sam Fender, Lewis Capaldi and Maggie Rogers headline.