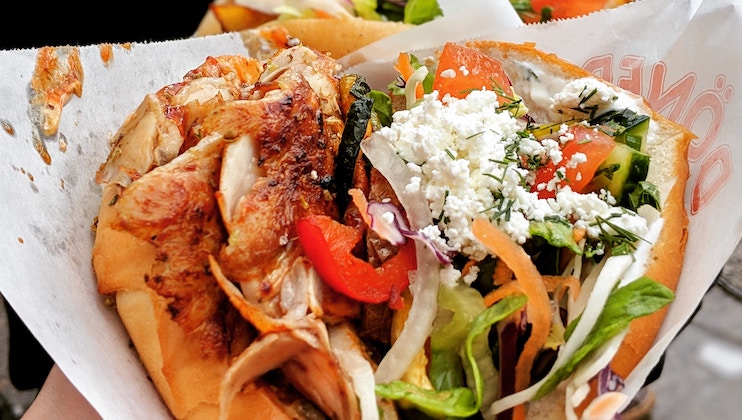 With an estimated 1.3 million sold every day, it is safe to say that kebabs are beloved across the nation. Since the first official kebab shop opened in North London in 1966, there are now over 20,000 kebab outlets in the UK selling around 2,500 tonnes of lamb and chicken doner a week. However, not all kebabs are created equal. Avoid disappointment with our roundup of the country's best.
Atalay Kebab Van
Image credit: Atalay Kebab Van/ via Facebook
Crowned the 'Best Kebab Van' in Britain at this year's British Kebab Awards, Atalay Kebab Van is worth travelling for. Founded by Turkish-born Russel Atalay in 1988, and now run by his two sons, the van has been serving fantastic - and cheap - Turkish food. A firm favourite amongst locals, given its recent accolade, the van's popularity is set to soar, so get there early to beat the inevitable queue.
Atalay Kebab Van can be found at North St, Oxfordshire, OX9 3HH
---
Mezza Luna
Image credit: Mezza Luna/ via Facebook
For the best kebab house in Wales, look no further than Mezza Luna. The family-run Lebanese and Moroccan restaurant prides itself on fresh, authentic and tasty dishes. Book a table for a Friday or Saturday evening and you can also enjoy live entertainment courtesy of the restaurant's weekly belly dancers. Whether you are celebrating a special occasion or having a casual meal, Mezza Luna promises a unique dining experience.
Mezza Luna can be found at 159 City Road, Cardiff, CF24 3BQ
Gokyuzu
Image credit: Gokyuzu/ via Facebook
A Harringay stalwart, family-run Gokyuzu is one of London's finest, and most popular, Turkish restaurants. Succulent meat is cooked in a traditional oven, and each meal is served with complimentary freshly baked breads and accompanying dips. This is the perfect spot for fresh, authentic and very generous portions of delicious Turkish cuisine.
Given its stellar reputation, you will find Gokyuzu packed on any given night, so make sure to book in advance.
Gokyuzu can be found at 26-27 Grand Parade, Harringay, London N4 1LG
---
Alla-Turca
Image credit: Alla-Turca/ via Faceboaok
Give the haggis a miss and tuck into a mouth-watering Turkish feast at Alla-Turca. Home to Scotland's best kebab (as per this year's British Kebab Awards), the Glasgow institution is the perfect spot to enjoy freshly baked bread, mixed mezze platters, bowls of smooth, moreish hummus, and meat cooked to perfection. Better yet, you can listen to live music provided by the house guitarist as you luxuriate in your inevitable food coma.
Alla-Turca can be found at 192 Pitt Street, Glasgow, G2 4DY
---
I am Doner
Image credit: I am Doner/ via Facebook
Don't feel like going out to eat? I am Doner has you covered. After all, the small shop did win the title of 'Best Delivery' at this year's British Kebab Awards. Choose between lamb, chicken, falafel or halloumi (or get the special doner and have a bit of everything). Inexpensive, fresh doners of epic proportions delivered straight to your doorstep? Heavenly.
I am Doner can be found at 23 Otley Rd, Headingley, Leeds, LS6 3AA
---
What the Pitta!

Image credit: What the Pitta/ via Facebook
For Vegetarians and Vegans, finding a tasty alternative to the traditional meaty doner kebab isn't an easy task. Luckily, in London, there is What the Pitta! Serving an entirely vegan doner, the Boxpark stalwart aims to provide a healthier and more ethical spin on the fast-food favourite. While some may protest that it's not a real doner, that hasn't stopped hordes of hungry customers (carnivores included) queuing up to sample their meat-free version. Trust us, this vegan doner is giving kebab shops a serious run for their money.
What the Pitta can be found at Boxpark Shoreditch (Unit 52) and Boxpark Croydon (Unit 9), with a store opening soon on Bayham Street, Camden.