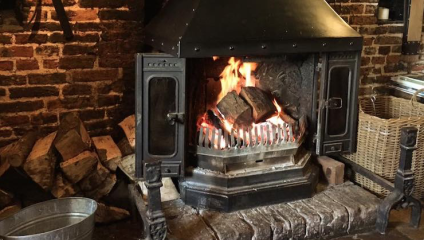 Enjoy a winter warmer whilst exploring the South Downs National Park
Stretching the beautiful coastline between Hampshire and East Sussex, the South Downs National Park is a glorious place to enjoy brisk country walks. We love a mid-winter walk, and there's nothing more rewarding than taking off hats and scarves to enjoy a local ale by a flickering open fire. Check out our guide to cosy local pubs to visit whilst hiking across the white cliffs and rolling hills.
---
The Worlds End
Arundel Road, Patching, West Sussex, BN13 3UQ
The Worlds End might be well known for its sprawling beer garden, outdoor play area and abundance of summer seating, but inside it's also a remarkably cosy winter hub! This South Downs community pub welcomes everyone, including dogs and children, so it's ideal for a spot of lunch or afternoon drink when exploring the area. Cushy armchairs sit in front of roaring log fires, offering a perfectly cosy spot to enjoy your local ale or Dorset brewed Badger Beer. They offer a tasty Rosie's Pig Mulled Cider which will warm you up with spicy cinnamon, nutmeg, cloves and citrus, along with a tasty home-cooked food menu and delicious Sunday roast.
---
The Fox Goes Free
Charlton, Nr Goodwood, West Sussex, PO18 0HU
The Fox Goes Free has been a fully serving pub for over 400-years, so it's safe to say that they've acquired a wonderful reputation and loyal customer base. Full of nooks and crannies to get lost in, the inn sprawls across multiple rooms with flagged stone flooring, low beams and exposed brick walls. There's plenty of cosy open fireplaces to warm up in front of, and diners can benefit from candle lit tables after dark. Staff and management at this one-of-a-kind place truly care about this historic British pub which ensures you'll get friendly and attentive service. Everything that comes out of the kitchen is prepared in-house, so whilst you might have to wait a little while for your meal you can rest assured that you're waiting for a deliciously tasty dish.
---
The Cricketers
Duncton, Petworth, West Sussex, GU28 0LB
Just a few miles from the pretty town of Petworth you'll find a well-known country pub: The Cricketers. This family-run 16th century inn is the perfect stop off whilst exploring the Goodwood Hills or after a trip to Goodwood Racecourse. Head inside and bag a seat by the charming Inglenook fireplace, letting the flickering open fire warm you up after a frosty walk. You'll find plenty of local ales and a frequently changing Guest Beer, as well as locally sourced Henning's wine. They also pride themselves in their home-cooked pub-grub, boasting locally sourced classic British meals, delicious Sunday roasts and over-flowing plates of Ploughman's.
---
The Elstead Inn
Elsted Road, Midhurst, West Sussex, GU29 0JT
The epitome of a country pub, The Elstead Inn is lovingly run by a local landlady and devoted head chef, offering highly rated food, comfortable B&B and cosy bar for local residents and travelling tourists. The cosiest element of all? The Elstead Inn has an adorable resident pup who'll happily curl up beneath you as you take a seat by the fire. Naturally the pub is extremely dog and family friendly, with dog biscuits and water bowls readily available for your exhausted pooches (and a bit of canine company!). In the kitchen, ingredients are sourced locally so the menu is always changing, but you'll always find a solid selection of meat, fish and veggie dishes. Order a hearty winter warmer and perhaps sit down with a fiery whiskey - but be aware they you might have to politely ask Otto the dog to vacate the cosiest armchair in the house!
---
The Welldiggers Arms
Low Heath, Petworth, West Sussex, GU28 0HG
Enjoy fine dining, local drinks and well-designed B&B rooms here in Petworth. This beautiful dining room (and bar, of course) has an open fire to one side and massive picture windows that overlook the vast South Downs. The wonderful far reaching view ensures you can enjoy the delightful countryside that surrounds you whilst nursing a pint in a toasty indoor space. Traditional wooden seating and massive oak tables provide a wonderfully sociable space to eat, ensuring a great stop off for family walks in the area. The food menu is filled with classic pub-grub dishes like local steaks and beer battered fish and chips, but as all ingredients are locally sourced the menu will no doubt look (slightly) different with every visit.