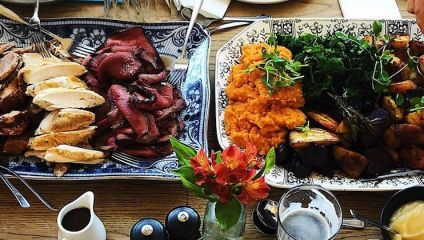 Bath has history, culture, and natural beauty in spades, so it almost seems unfair that it should also be home to some of the best Sunday roasts in the UK. But hey – not all cities were born equal, so we've decided to celebrate Bath's best roasts with this round up of our five favourites. Who knew that Sundays in this southern city could be so tasty?
---
About a mile out of town you'll find a pub that not only serves up delicious roasts but also occupies an enviably picturesque spot, with stunning vistas over the tranquil Bath countryside. The Hare & Hounds serves up seasonal, home-cooked gastropub fare, and their Sunday menu will have you submerged in all kinds of deliciousness. Choose between Wiltshire pork belly, sirloin of Red Ruby beef with Yorkshires, or mushroom and roasted pine nut wellington, complete with sides of roast potatoes and honey carrots, braised red cabbage and red wine gravy. With a menu like that, you can see why they were awarded Best Sunday Lunch at the 2013 Bath Good Food Awards. A great place for families to stop off on their way into Bath.
Image Credit: hareandhoundsbath.com
The Hare & Hounds is located at Lansdown Road, Bath BA1 5TJ
---
Gascoyne Place Restaurant
This restaurant adopts the mantra that 'nothing in Bath comes close to our Sunday roast', and Gascoyne Place has good reason to be confident. Alongside sirloin of beef, chicken, and chestnut mushroom and pistachio nut roast they also offer Berkshire Boar pork and the catch of the day in the fish section - and the good news is all roasts are under £15, so a meal here won't break the bank. The dessert selection here is also particularly mouth-watering: think chocolate torte with passion fruit coulis, raspberry and rosewater cheesecake, and rhubarb and apple crumble with custard ice cream. If you can't move after your lunch, so much the better, because Gascoyne Place plays host to live jazz every Sunday evening from 8pm.
Image Credit: Gascoyne Place
Gascoyne Place is located at 1 Saw Cl, Bath BA1 1EY
---
The Marlborough Tavern
For a central spot to catch a good roast, look no further than The Marlborough Tavern just around the corner from The Royal Crescent. Owned by The Bath Pub Company (the same people who own Hare & Hounds) this place also boasts one of the best beer gardens in central Bath; a certified suntrap with broad tables and fresh pots of lavender. Foodwise, they expand upon The Hare & Hounds' Sunday menu, adding other roast options including free-range chicken breast with stuffing and beer-battered ling with triple-cooked chips to the regulars of beef and pork. All roasts are gluten-free, which is another plus.
Image Credit: The Marlborough Tavern
The Marlborough Tavern is located at 35 Marlborough Buildings, Bath BA1 2LY
---
The Huntsman
The Huntsman can actually boast the oldest shop-front in Bath: first constructed in the mid-1700s the building still contains its original keystones. This pub places firm emphasis on seasonal, locally sourced ingredients, and the freshness of their food is a testament to this. The Sunday menu offers Hampshire roast sirloin, a whole sharing chicken (perfect for 2 or 3 diners), 12-hour slow-cooked Romsey pork belly, butternut squash and feta Wellington, and leg of Dorset White Texel lamb - all of which are served with a 'giant' Yorkshire pudding, roast potatoes, creamed leeks, honey-glazed carrots and parsnips and classic red wine gravy. For a truly locally sourced dining experience, head to The Huntsman.
Image Credit: The Huntsman
The Huntsman is located at 1 Terrace Walk, North Parade, Bath BA1 1LY
---
Acorn Vegetarian Kitchen
Bath is quite the hub for vegetarian dining, with many veggie and vegan establishments popping up in recent years. One of the best known is the Acorn Vegetarian Kitchen, which shamelessly plays the veg card in our battle of the roasts. Originally founded by Rachel Demuth, who ran one of the longest running Vegetarian Cookery Schools in the country, the restaurant has switched hands yet remains a haven for simple, fresh vegetarian food. The great thing about the Acorn is they also have a Sunday roast menu, featuring carrot and cashew pâté, and a nut roast with rosemary and potato gallette, garlic broccoli and hazelnut sherry sauce. Veggie roasts have never tasted so good.
Image Credit: Acorn Vegetarian Kitchen Nutroast
Acorn Vegetarian Kitchen is located at 2 North Parade Passage, Bath BA1 1NX