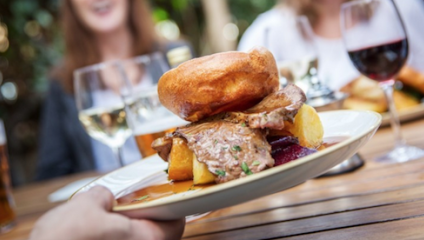 With so many lazy Sundays stretching ahead of you this summer, a day trip is in order! Cathedral city Exeter is a must-visit in the South West, and with so many stellar pubs cooking up a storm at the weekends there's no excuse not to sample their Sunday menus. We've picked out our favourites from Exeter and the surrounding area, so grab a group of family and friends and head down south for a hearty Sunday roast.
Our selection of the best spots for a sunday roast in Exeter
---
The Huntsman Inn
Just outside Exeter you'll find the picturesque village of Ide, which happens to be home to equally picturesque Huntsman Inn. Resembling a beautiful thatched cottage, this family-run pub's seasonal menu and easy-going atmosphere make it a favourite of tourists and locals alike, and their Sunday roasts have drawn quite a following. Right now they are serving up topside of beef or turkey and vegetarian nut roast with homemade Yorkshire puddings and fresh veg. Great food in a cosy and comfortable setting.
Image Credit: The Huntsman Inn
The Huntsman Inn is located at 2 High St, Ide, Exeter EX2 9RN.
---
The Oddfellows
If you're of the 'larger-the-better' school of Yorkshire puddings, The Oddfellows should be right up your street. This 'gastro bar and cocktail lounge' is one of the slinkier establishments in this round-up, and definitely the place to go if you want your boozy lunch to turn into a boozy evening. Located in the bustling heart of Exeter, their roasts feature all the classic favourites cooked to perfection - and given the whole speakeasy vibe, why not enjoy your beef and potatoes with a cocktail?
Image Credit: The Oddfellows, Exeter
The Oddfellows is located at 60 New N Rd, Exeter EX4 4EP
---
The Five Bells
Only ten miles from Exeter, The Five Bells can be found in the timeless environs of the village of Clyst Hydon. Awarded a coveted Michelin Bib Gourmand (reserved for the Michelin inspectors' favourite restaurants) in 2014, the Grade-II listed thatched inn is nigh on perfect as a Sunday lunch destination. Stone floors and wooden beams inside provide the ideal setting for a good roast, and with a Sunday menu offering pork loin, topside of beef and roasted fillet of hake with all the trimmings, we predict you'll be coming back to Clyst Hydon for more.
Image Credit: The Five Bells
The Five Bells Inn is located at Clyst Hydon, Exeter, Devon EX15 2NT.
---
The Puffing Billy
Located in the village of Exton just fifteen minutes from Exeter, The Puffing Billy is a stylish place, serving food with a modern twist. Their dishes are all made with locally sourced produce and they put on a rotating seasonal menu. Once again, expect enormous Yorkshires with lashings of gravy at very reasonable prices.
The Puffing Billy is located at 0PR, Station Rd, Exton, Exeter EX3 0TR.
---
The Double Locks
Situated right on the Exeter Ship Canal, the unique location of The Double Locks makes it the ideal idyll for lazy Sunday afternoons by the waterside. The red brick main building and expansive beer garden are welcoming and homely, and with beef sirloin, steak and ale pie and a half roast chicken on their Sunday menu you can see why it's so popular, all served with Yorkshires, honey roasted parsnips and buttered carrots. They also provide children's portions of all the roasts, making The Double Locks a great choice for families looking for a Sunday lunch out.
Image Credit: The Double Locks
The Double Locks is located at Canal Banks, Exeter EX2 6LT.