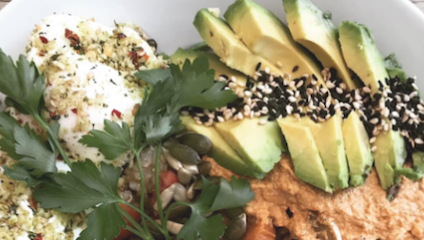 What Canterbury lacks in size it makes up for in beauty, history, and vegetarian restaurants. The historic cathedral city, once a pilgrimage site in the Middle Ages, is now a popular destination for the meat-free among us. It also boasts some seriously creative dishes, including dukka-rolled eggs, raw cashew butter pad thai, and BBQ pulled jackfruit burgers. Not a stuffed mushroom to be seen in Canterbury.
We've curated the best vegetarian restaurants around Canterbury. We've done the work so you can feast and enjoy.
---
Veg Box Café
Run by husband and wife team Adam and Liz Child, the Veg Box Café is a firm favourite on the vegetarian and vegan scene in Canterbury. Using only the freshest of ingredients, they serve up colourful salad boxes, soup, hotpots, and homemade cakes - all cooked from scratch, of course. Great for eating on the go, try their morning breakfast box for a tasty, veggie start to the day. And if you want to take some inspiration home with you, they run a recipe blog to share some of their favourite veggie and vegan dishes, including one for raw cashew butter pad thai.
Image Credit: Veg Box Café
Veg Box Café is located at 17A Burgate, Canterbury CT1 2HG.
---
Kitch
Another haven for healthy eaters, Kitch's super central location and relaxed and airy café regularly draw crowds. Offering a range of gluten-free, vegetarian and vegan options, their kitchen is completely free from refined sugars, refined flours and processed foods. Try their Goodness Bowl with cumin roast cauliflower and dukka-rolled poached eggs, or their Roasted Veggie Medley with roasted pepper, courgette and aubergine, washed down with a number from their range of freshly pressed juices.
Image Credit: Kitch
Kitch is located at 4 St Peter's St, Canterbury CT1 2AT.
---
The Lady Luck
Not all veggies are food angels, however, and those who have grown a little tired of the wellness label might like to take a gamble on The Lady Luck. This self-described 'rock 'n' roll pub' hosts ska bands and DJs by night, and during the day serves up a surprisingly vegan and veggie-friendly menu. Expect hearty dishes like homemade veggie bean chilli and mushroom jambalaya alongside freshly prepared salads, but the main attractions are the burgers. Creativity abounds among the veggie burger options, which include South West red bean and BBQ pulled jackfruit! A great choice for veggies, vegans and coeliacs.
Image Credit: The Lady Luck
The Lady Luck is located at 18 St Peter's St, Canterbury CT1 2BQ.
---
Café Mauresque
Every city needs a great tapas bar, and Canterbury's offering comes in the form of Café Mauresque. Their Moroccan-themed menu is packed full of vegetarian options, with a spinach and Manchego layered tortilla, grilled Halloumi brochettes and a slow-cooked aubergine, Feta and red wine stew. Their souk-like interior and array of sharing platters make Café Mauresque a great venue for larger parties and groups.
Café Mauresque is located at 8 Butchery Ln, Canterbury CT1 2JR.
---
Canteen
Only three doors down from Canterbury cathedral, Canteen is the vegetarian's ideal pitstop. Their cheap and cheerful menu features a freshly made mix of baguettes, salads and flatbreads, along with some tasty burritos and jacket potato options. Homemade cakes are another permanent fixture, alongside great coffee.
Image Credit: Canteen, Canterbury
Canteen is located at 17 Sun St, Canterbury CT1 2HX.