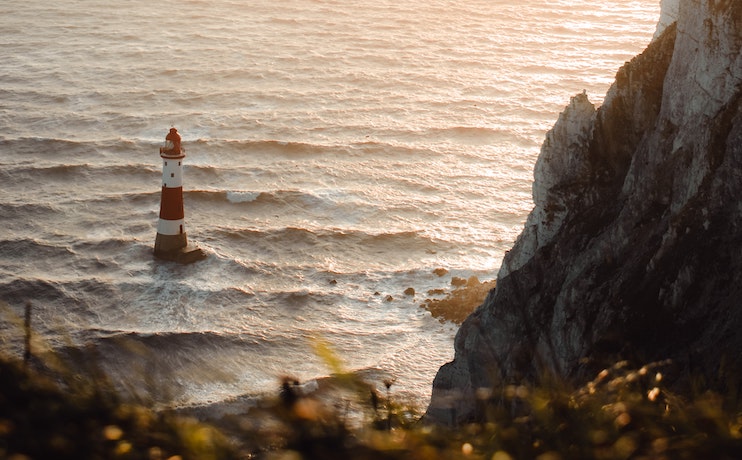 Channel your inner Mrs Dalloway and trace the feminist-icons footsteps across the countryside
Modernist maven and writer of some of the most sumptuously rich love letters in the English language, Virginia Woolf is an icon of literary proportions. So take a page out of her book and swap the cacophonous rush of city life for the green pastures of the countryside whilst dutifully brandishing a copy of Mrs Dalloway in hand.
---
Charleston Farmhouse and Garden
A favourited countryside retreat of the outlandishly bohemian Bloomsbury Group, this pastoral little farmhouse is an essential pilgrimage for dedicated poetry-buffs and art-fans alike. As the home of Virginia's sister, Vanessa Bell, it soon become clear as you enter that almost every surface in this fantastical cottage has been adorned with fierce brushstrokes, expressive sculptures, and lacquered in vibrant pinks and blues.
You can even lock eyes with the feminist icon herself, there's a hand-sculpted bust of Virginia created by Stephen Tomlin in the art studio at the rear of the house.
The house and garden are open to visit Wednesday to Sunday and adult admission starts at £11
---
Monks House
Visit Virginia's very own 'room of one's own' and head to her weathered writing shed crouched in the gardens of Monk's House, the 16th century cottage she bought with her husband, Leonard. With the garden erupting in spatterings of multicoloured blossom and rosy apple trees, it's easy to imagine Woolf frantically jotting down inspiration come rain or shine, you can almost smell the typewriter ink and cigarette smoke.
Make sure to ferret out the tiled fireplace in her bedroom where you'll find a hand-painted panel of a lighthouse guiding a wave-beaten sailing ship, emulating the scene from one of the author's most celebrated novels 'To the Lighthouse'.
Monk's House is a National Trust property, adult admission is priced at £6.60 and available to buy at the entrance
---
Explore the village of Firle
After a day of hiking the blustery seascape of the Sussex Downs, Virginia preferred nothing more than to retire to Little Talland House, her marital home in the picturesque village of Firle. Although you unfortunately can't visit Talland yourself, Firle is charming to explore in its own right and perched on the undulating vistas of the South Downs there's no better place for a dramatic afternoon wander along the salty stretches between Birling Gap and Cuckmere Haven.
Post-ramble drop into the Ram Inn, a well-loved haunt of the Bloomsbury pack, we suggest opting for a golden pint of 'Sussex Best' courtesy of local institution Harveys.
Walking trails and digital route guides around Firle and the rest of the South Downs National Park are available to download from their website here
---
Sissinghurst Castle Garden
Sissinghurst is totally stunning to behold, ubiquitous for its acres of manicured lawns it's nothing short of world-famous for its prim and paridisal 20th century gardens. However, lesser known is that its former bluestocking custodian Vita Sackville-West, was a lover and friend of Virginia's and inspired her gender switching protagonist in the author's feminist-fuelled masterpiece Orlando.
Peppered throughout the castle, eagle-eyed guests will find a wooden-framed photograph of Virginia perched on the desk on the desk of Vita's writing room as well as a 'Hogarth Press' gifted to Vita and her husband by Virginia and Leonard.
Sissinghurst is open all year round with adult admission starting at £10.40