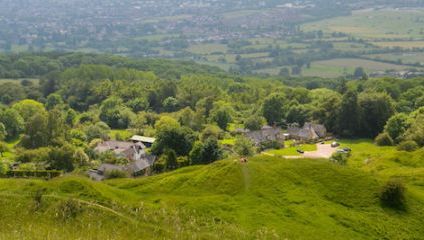 The gently rolling hills and picturesque limestone villages of the Cotswolds are set against quintessentially English countryside, spanning over six counties and designated an Area of Outstanding Natural Beauty in 1966. Explore water meadows and beech woods, historic market towns, and ancient grasslands in our guide to a weekend away in the Cotswolds.
Our guide on what to do during a weekend stay in the Cotswolds.
---
Saturday Morning
Gloucester is the cathedral city of the Cotswolds; a historical goldmine which dates all the way back to Roman times. It seems fitting to kick off your Cotswolds tour with a trip to the star attraction, Gloucester Cathedral itself. The site has been a place of Christian worship continuously for over 1,300 years, containing examples of architecture from throughout the medieval period. It's also been a filming location for Harry Potter, Sherlock and Doctor Who. Soak in hundreds of years of history in this incredible space.
Image Credit: Gary Ullah
---
Saturday Lunch Time
Only a stone's throw from the cathedral is the Hubble Bubble Coffee House, a coffee shop / bakery / restaurant that provides the perfect venue for a light post-cathedral lunch. This family-owned place serves wild boar burgers alongside sandwiches and cakes - try their delicious homemade lemonade and choose your favourite flavour from an incredible array of milkshakes.
Image Credit: Hubble Bubble Coffee House
---
Saturday Afternoon
Just a short walk away is the harbour-side, where you'll find the historic Gloucester Docks with converted warehouses and a medley of bars and boutique shops by the waterfront. Then if you're after some culture why not visit the recently renovated Museum of Gloucester where you'll find dinosaur skeletons, Roman artefacts and decorative arts.
---
Saturday Evening
Gloucestershire is a great area for foodies. Just outside Gloucester you can find the Queens Head, a homely and popular pub which has acquired quite a reputation for its roasts and real ales. If you feel like venturing further afield, a half-hour drive to Cheltenham will lead you to the impressive Lumiere, where they serve up beautifully presented contemporary cuisine right by Cheltenham's famous tree-lined promenade.
Image Credit: Lumiere, Cheltenham
---
Sunday Morning
For a return to Roman times, pay a visit to Chedworth Roman Villa near Cheltenham, with mosaic tiling and Roman ruins surrounded by countryside. Then you can drive over to the historic market town of Chipping Campden, formerly a wool merchants hub, and the official starting point of the famous Cotswolds Way trail all the way to Bath. Peruse the shops and enjoy the differing styles of architecture in this typically Cotswoldian setting.
Image Credit: Charles D P Miller, Chedworth Roman Villa
---
Sunday Lunch Time
If you've worked up an appetite, head to the Chef's Dozen in Chipping Campden. With a cottage-like feel inside, this restaurant only opened in 2014 and has already been named the best restaurant in the Cotswolds by food writer Giles Coren, and invited similar rave reviews.
---
Sunday Afternoon
To relax after lunch, the Cotswold Wildlife Park and Gardens is the perfect place to spend a lazy afternoon. You'll encounter rhinos, zebra, lemurs, lions, meerkats and penguins, all in the grounds of a Victorian country manor house. Through the 160 acres of parkland you can take a stroll down the giraffe walkway, meet penguins in the walled garden, and watch the herds of white rhino grazing on the lawns of the manor.
Image Credit: Cotswold Wildlife Park and Gardens