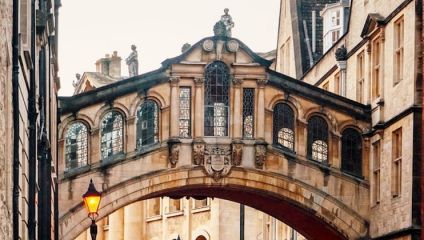 If the prospect of trawling through a packed and heaving Oxford shopping street makes you shudder, fear not: we've got some suggestions for some alternative options, including locals' secrets, great deals, tucked-away streets and one-of-a-kind purchases.
---
Covered Market
The Covered Market is a familiar sight to most Oxford residents, but tourists often find it harder to stumble upon, especially during a brief visit. The market has existed since the 1770s and sits in the centre of town between Market Street, Turl Street, the High Street and Cornmarket. This haphazard maze of vibrant local sellers is the perfect self-contained place to visit on a rainy day, with everything from florists to fishmongers, fashion to souvenirs, gourmet food to hand-made jewellery. Whatever your desires, this market has the answer: for sweet treats, head to the ever-busy Moo Moo's milkshake bar or Ben's Cookies; for fashion that's not from the high street, try Next to Nothing; for coffee and a catch-up, go to Browns Cafe. Our favourite places are the Cheese Shop—for obvious reasons—and the Cake Shop, which sells off-cuts of fresh cake (a pound of cake for £1). Above the market, you can find the Varsity rooftop bar and reward yourself post-shopping with a cocktail and views of the dreaming spires.
---
Town Hall Sales
The grand Oxford Town Hall, a mock-Jacobethan building dating from the nineteenth century, hosts a variety of monthly sales with lots of shopping bargains. These include a CD and Record Fair, which music-lovers can head to on the first Saturday of every month from 9am - 6pm, and the sought-after Vintage Kilo Sale, which you can find by following the gaggle of student bargain-hunters down St Aldate's. The kilo sale does what it says on the tin, letting customers pay by weight and maximise on vintage purchases without breaking the bank. Other shopping opportunities include the Oxford International Art Fair, the Oxford Beer and Cider Festival, and Oxford's Winter Wonderland, the perfect place to sort Christmas presents. Check the Oxford Town Hall website first before you shop 'til you drop.
---
North Parade Market
On the second and fourth Saturday of every month, a plethora of independent traders take to the North Parade, a narrow street branching off Woodstock Road, about a fifteen-minute walk from the city centre. In this bunting-bedecked shopping street, you can find a whole host of curious shops, from the Oxford Yarn Store to the Taurus Gallery, which sells glasswork, jewellery and paintings. The market itself has a great selection of street food, from steak and chips to Vietnamese to tapas, all available for takeaway, and the University Parks are a short stroll away.
---
Unique independent stores in Jericho
Oxford has a ton of independent shops that are worth a visit—the absorbing Boswells, for example, is the oldest family-owned department store in the world. For a morning of alternative shopping, the Jericho area down Walton Street is far from the crowds and packed with rainbow-painted houses and hidden shopping delights. These include Uncle Sam's on Little Clarendon Street, stocking vintage American clothing from the 50s to the 80s for both men and women; Cowboymod, a hair salon-cum-photography gallery (we're serious); and Illyria Pottery, a ceramics shop owned by a local artist.
A particular highlight on Walton Street is the Albion Beatnik, a bookshop with a wide-ranging selection that is open until 11pm on some evenings. We'd also recommend Demijohn, the 'world's first liquid deli', where you can pick a bottle and select gourmet food and drink to go in it: options include interesting alcoholic combinations, rich oils and fruit-flavoured vinegars, which make great presents for foodies.
---
Gloucester Green Market
For a traditional farmers' market, head to Gloucester Green on Wednesdays, where you'll find a variety of fruit, vegetable, bread and cheese sellers plying their trade at prices far cheaper than a supermarket from 9am - 4pm. There are also several hot food stands which are a good place to nab a cheap lunch: we like the hot steamed Chinese dumplings. On Thursdays from 9am - 4pm, the square hosts a Vintage Market, with curious knick-knacks, crockery and real leather jackets up for grabs. If you're friendly, the sellers might haggle the price down. Another good tip is to get there early in the morning to be in with a chance of finding cashmere jumpers, fur coats, leather brogues and floor-length dresses before they're snapped up. On Saturdays from 10am - 5pm, the market is a mishmash of world food stands, craft stalls and a selection of vintage items, prints and arty products.