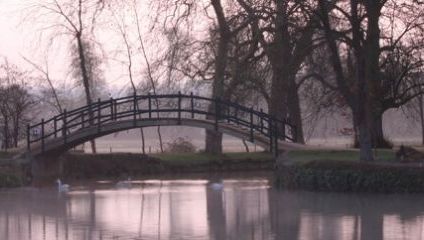 Crisp mornings, serene afternoons: winter can often be the best time of year for a brisk stroll outside, and there are few better places to enjoy a calming landscape than Oxford. The city of Dreaming Spires has no end of beautiful views and hidden trails. So wrap up warm and brave the cold for our selection of winter ambles you're bound to enjoy.
Best places for a winter walk around Oxford
---
Port Meadow
Take a trip north through Jericho and into Port Meadow. This collection of rolling green pastures runs right along the river and is a common swim spot for locals in summer months. During winter it's a composed grassland with gentle flowing elegance. In the early 1900s the meadow used to flood and freeze, allowing school kids to skate across the downs. You too can glide through at your own (walking) pace, passing the locks and wooded groves, and on to either The Perch or The Trout, two of Oxford's best pubs, conveniently placed along your route.
Photo Credit: John Ireland
---
A composite walk, and not always the easiest to find, Mesopotamia is well worth the effort. Literally translating to "between the rivers" this trail carves its way almost on the water, running from the south-east corner of University Parks to Marston Road and Magdalen College's Sports Grounds. Head out on the Marston cycle path until you reach the first bridge, then look for the first right. Continue on and you'll discover a tranquil environment of babbling brooks and graceful silver birches. It's a local secret and often deserted - just perfect for you and your walk. If you still have spring in your step come the end, cross over to Oxford Brookes University's Headington Hill Park, a beautifully maintained garden slope with plenty of secluded spots.
Photo Credit: John Lord
---
Christ Church Meadows
Christ Church Meadows. Ah, Christ Church Meadows. If you've ever seen a film or TV program with floppy haired Oxford students frolicking in cricket jumpers beside a river, it was probably here. When the sun emerges this is a tourist bonanza with punting and rowing drawing in the crowds. In the colder months, you'll likely be able to enjoy a saunter in peace. Chart the outer boundary of the fields and discover a picturesque track out from the city and into the waterways. At exactly halfway along there's a stunning view back across Oxford, where you'll discover just why they call it the City of Dreaming Spires. Full of cool blues and pale greens, this is a spectacular stroll you need to see.
Photo Credit: Tevjan Pettinger
---
Along the Isis
On just the other side of the Thames to Christ Church Meadow is a second track for you to find. This stretch of the river is known as the Isis, and a gentle jaunt south will take you to Oxford's outlying villages, Kennington and Sandford-on-Thames. The first half of the walk is paved and easily accessible by wheelchair. After that, sadly, it can get a little muddy as you embark through the undulating heath. The Isis is a great walk for kids, with plenty of room to roam and always a healthy selection of boats and steamers gliding past. If you can make it out to Sandford, the King's Arms pub is waiting to welcome you with a selection of hearty pies, steaks, and fish & chips - oh, and an ale or two.
Photo Credit: Danny Chapman
---
Magdalen College Deer Park
If you are looking for a dramatic and elaborate landscape, Magdalen College's Deer Park and Grounds may be the pick for you. You do need to pay for entrance - £5 for adults, kids go in free. It's well worth it, however, as these perfectly maintained gardens are boldly designed and delicately composed. Walk through the college's 15th century quadrangles and out into a circular trail that cuts across the city centre's rivers and into a world of lush conifers and winter flowers. The space seems to go on forever and holds endless secrets for you to explore.
Photo Credit: Ed Webster.
For more information on Magdalen's opening times, please see their visitor's website.