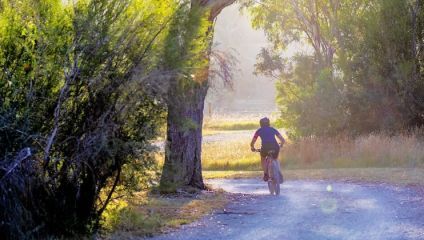 Looking to explore the 'city of dreaming spires' on two wheels? Rated as a city with one of the highest percentage of residents cycling to work, Oxford offers a variety of routes for every taste and ability level.
---
Reading to Oxford
This is a 35-mile route following the National Cycle Network 5, starting in Central Oxford, it slowly slides into the quiet countryside with idyllic surroundings to take in. You can stop and admire the stunning views from the Chiltern Hills and then enjoy the little charming towns of Abingdon and Wallingford. If you're lucky, you might get to admire the gracious horse riders joining you along the trails, which take in the vast fields of wheat and the shadowy mystery of Oxfordshire's dense forests. For more information head to the RouteYou website.
---
Badbury Clump
If all you want is a couple of hours away with your mountain bike in a place that feels like the mountains, but sparing you the hours of travelling, the Badbury Hill is an extremely pleasant alternative. You can drive from the town up to the car park located just minutes away from the trail then start exploring the forestry hills nearby. If you're in the mood for a rougher and a bit more aggressive ride, head downhill to enjoy the muddy soil and mixture of rollers, drops and roots. More information about
---
Badbury Clumps
---
Iffley to Woodstock
For those who want to enjoy a pretty flat, nice and relaxing ride, the Iffley to Woodstock route is a perfect one. It starts along the River Isis - the name comes from the Latin Tamesis, the Roman name for the Thames. The route continues through Oxford, towards Begbroke and ending up in North-East Woodstock. The route is a total of 10 miles one way and given its overall good surface, it shouldn't be an unreachable goal even for the less experienced cyclist.
---
Oxford to Bicester
This 17-mile quiet and almost entirely traffic-free trail is part of the long distance National Cycle Route 51 running from Colchester all the way to Killington. You can start your journey in the historic centre of Oxford and continue North to the picturesque village of Kidlington, located between the River Cherwell and the Oxford Canal. The route goes on towards Weston-on-the-Green and finally onto Bicester through an enchanting countryside landscape. However be aware, you might be taken out of your reveries as there are some pretty uneven spots along the way! Find out more about the route here.
Whether you are a speed-rider or a dreamy wanderer, there is a lot to explore around Oxford and the surrounding countryside. Or simply get on your bike, cycle into town and let yourself be taken through the lovely paths along the river!