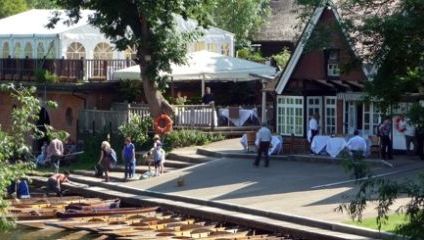 You've been to Oxford loads of times before. You know it inside out – or so you think! There's always something more to find in the city of dreaming spires. Here is our list of pubs, cafes, sights and highlights you may have missed first time around.
Things to do in Oxford that's off the beaten track
---
Food
There's no end to the good food options in Oxford, so let's crack on. If you haven't tried Alpha Bar in the Covered Market, it's a must. A student favourite, this rustic vendor offers select-your-own salad boxes or an array of scrumptious hot stews, curries and tagines, all at amazingly cheap prices.
Travelling out to the Cowley Road region, Oxfork is the only place to go for brunch. A community café with a stylish twist, Oxfork makes an array of organic breakfasts including quite possibly the best eggs florentine you've ever had - not to mention the eggs benedict!
Photo Credit: Mike Bingham
What about dinner? Jam on down to the Jam Factory. Conveniently placed near the station, this former marmalade-making firm is now a gourmet restaurant with an art gallery to boot. The dishes are simple, refined, and perfectly executed.
---
Drink
Even Inspector Morse hasn't drunk his way through all the pubs in Oxford - and then there's the coffee shops! Here are just a few lesser known gems.
If you're out in Jericho, The Victoria is a swish pub with a homely atmosphere. Friendly staff and a good selection of beers, ales and wines, you're sure to have a fun evening here and there is enough space to fit a large party. Slightly more raucous is The Star on Rectory Road. The décor is … let's say shabby chic - but there's always an exciting atmosphere, especially in the summer when the back doors are thrown open to their expansive beer garden.
Photo Credit: Kake
Staying in Cowley, The Truck Store offers artisan coffee and a cool vibe. This cafe doubles as a record store, and is a second home for Oxford's hipster community. Now for a good cocktail! Nustled between the larger Freud's bar and the fancy Duke of Cambridge, Raoul's Bar often gets overlooked. Wrongly so: this cocktail specialist has a more diverse selection than its neighbours and much more kick to throw around. Raoul's is invariably humming at the weekend (and most week days), and can always be relied upon as a first-rate way to start a night.
---
You've seen everything there is to see in Oxford? No way! Take a look at these.
Way out on the fringes of Headington is one of Oxford's best-kept secrets - The Kilns. This picturesque summerhouse was C.S. Lewis' lodgings throughout most of his writing career. The site is now home to the C.S. Lewis Foundation, and their friendly scholars are happy to provide a tour of the grounds and reveal the famous author's history. It's a bit of a trek but definitely worth it.
Further out still is Rousham House. A 17th-18th century mansion with a huge landscape garden, Rousham is stunning and for some reason ignored by the flocks of tourists. All the better for you! Wander the lawns and woods in peace, or take a tour inside the house's ornate interior. If you liked Blenheim, this stately home is a perfect follow-up.
Rousham Gardens. Photo Credit: JR P
Back to the city, take a chance with the OVADA Warehouse. This experimental art gallery is tucked away behind Park End Street, and goes largely unnoticed. The stripped down space plays host to a range of intriguing, off-the-wall events, available nowhere else in Oxford. This recommendation does come with a slight caveat - the exhibitions can be hit-and-miss. It's a gamble worth taking, however. All the events are cheap, if not free, and the good displays are truly worth catching.
Finally, the Cherwell Boathouse. If you've been to Oxford, you've been punting - but you haven't been punting here. The Cherwell Boathouse sits further north along the river and offers trips out into the city's scenic surroundings. It's a serene cruise out into the meadows, perfect for those looking to escape the crowds. Oh, and the Boathouse has a restaurant and a well-stocked bar. Why not take a bottle of bubbly as a companion for your intrepid voyage?