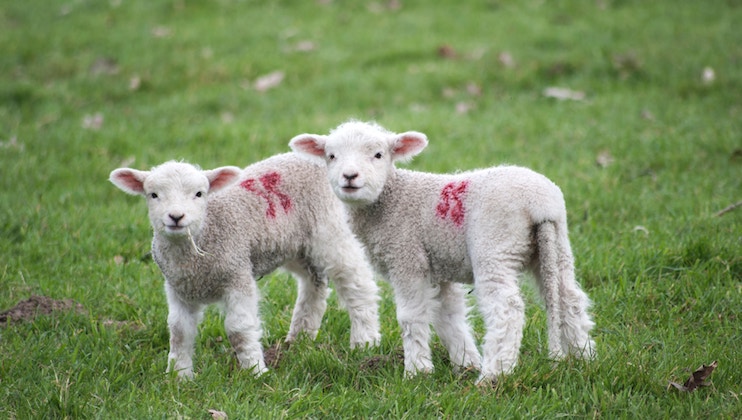 Because lambing season is just around the corner!
The days are getting longer, and the weather is (thinking about) picking up a bit - Spring is just around the corner. Whilst the rolling fields of the Yorkshire Dales offer plenty of animals to look at from afar, we're checking out places you can go for a hands-on afternoon of caring for and looking at farmyard animals - just in time for lambing season!
---
Hesketh Farm Park
Bolton Abbey, Skipton, North Yorkshire, BD23 6HA
Find the ever-popular Hesketh Farm Park just a short journey out of the village of Bolton Abbey, an amazing afternoon out for both kids and adults alike. Head inside their huge heated barn or make full use of the outdoor space in the warmer weather. You'll get the chance to meet sheep and their lambs, calves, pigs and piglets, goats, hens, chickens, ducks, guinea pigs and even three giant tortoises! These activities are, of course, completely seasonal and dependent on the time of year. But on a regular spring day you'll get the chance to help out with lamb feeding, egg collecting, pony brushing and more. Kids can also let loose on the indoor play barn or impressive hay maze!
Hesketh Farm Park is open every weekend until 6 April 2020, then open (almost) every day until September! Click here for more info.
---
Bedale, North Yorkshire, DL8 1AW
This family-run farm in Bedale is another fabulous chance for younger visitors to get hands-on with animals big and small. With sheep, goats, pigs, ponies, ferrets, pygmies and a whole load more - Big Sheep & Little Cow Farm has got it all! Throughout any normal day on the farm they run both large and small animal experiences for younger visitors and toddlers, with the chance to pet ponies, feed goats and brush pigs. Toddlers can also join in with some sensory play sessions, using various textures, objects and even animals around the farm to stimulate learning! Visitors of all ages will enjoy a guided tour of the farm with one of the many expert farmers, and a chance to say hello to a variety of exciting farm residents! Their first lamb of the season arrived in January, so be sure to book in a trip soon to catch the baby sheep at their bounciest!
Big Sheep & Little Cow Farm is open every day from February Half Term. Click here for more information.
---
Nidderdale Llamas
Kiln Farm, Wilsill, Pateley Bridge, North Yorkshire, HG3 5EE
Fancy pairing a long walk in the Yorkshire Dales with a petting zoo experience? Nidderdale Llamas offers you the chance to do exactly that, with long and short walks alongside llamas and alpacas around the Nidderdale Area of Outstanding Natural Beauty! This farm, sadly, doesn't welcome kids younger than 7 on the farm or younger than 10 on the treks, as looking after these animals can be kind of strenuous work! But for families with older children (or simply just a group of grown-ups!) you can choose from a variety of walk lengths/distances or a family experience which takes place on the farm. For longer walks and treks you'll have refreshments provided, and each experience will be guided by an expert llama or alpaca carer!
Nidderdale Llamas is open every day except Monday, and pre-booking is essential. Click here for more information.
---
Piglets Adventure Farm
Towthorpe Grange, Towthorpe Moor Lane, York, YO32 9ST
Got a young one who can't get enough of Peppa Pig? Well, pack your Percy Pigs and head to the Piglet Adventure Farm just outside of York! Here you'll find bunnies, guinea pigs, baby chicks and alpacas, as well as lambs to feed and cows to milk! The main attraction, however, is The Piglet Maternity Ward which is new for 2020! Tour the mother and baby ward to find new-born piglets still feeding from mum, or the piglet academy to see real-life Peppa and George! If you're really lucky you might even get to see a pig giving birth - a memorable experience for any young visitor! Once you've caught up with the farm's resident animals, drop by the Piggy Pizza Parlour or Truffles Trough Café for a bite to eat whilst the kids play in the barn!
Piglets Adventure Farm is open every day from mid-February! Click here for more information and to book.
---
Meanwood Valley Urban Farm
Sugarwell Road, Meanwood, Leeds, LS7 2QG
Just 2 miles out of the city centre, Meanwood Valley Urban Farm is a great chance for city kids to get a taste of country life! This community farm has been serving the local area since 1980, growing from two caravans and a plot of land to a 24-acre site. It's a working farm with plenty of educational services and breeding programs, as well as a garden and woodland space filled with local British flora. Come and visit the donkeys, cows and pigs, or try your hand at feeding the goats and stroking the rabbits! Their hidden bird sanctuary is also well worth a visit, and a fun-filled playground will keep children entertained for hours!
Meanwood Valley Urban Farm is open every day! Click here for more information.