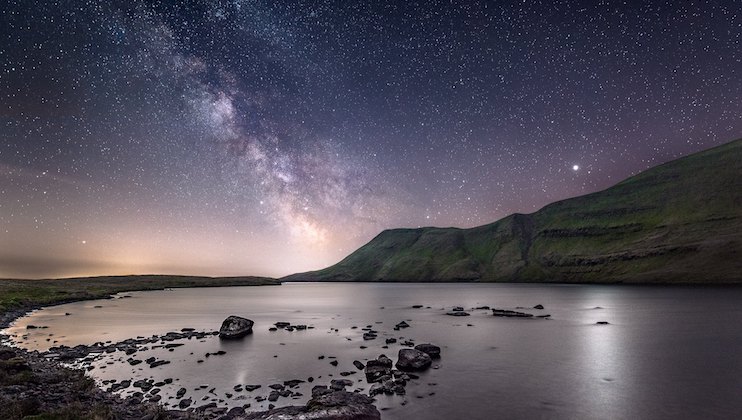 Stay out after dark and see the sights in these beautiful stargazing locations
Fill your flasks and wrap up warm for some late-night trips into the countryside to celebrate the Dark Skies Festival this February. Be sure to download a stargazing app on your phone (or buy a book or a guide if you want to do it old school) and head to one of these superb Dark Sky spots to make the most of a starry, starry night.
---
Brecon Beacons Dark Sky Reserve
The Brecon Beacons National Park became an International Dark Sky Reserve in 2012 and has since then been a pilgrimage for eager stargazers. The Welsh mountain range boasts remarkable views and walking routes and is the perfect weekend getaway all year round. Weather permitting, Brecon Beacons is a place to spot the milky way, as well as constellations, nebulas and even the odd meteor shower. The community takes active steps to limit light pollution and uphold its Dark Sky Reserve status. When the stars align you can even catch The Aurora Borealis (Northern lights) from here.

Visit:
---
Llanthony Priory for stunning ruins and clear, dark skies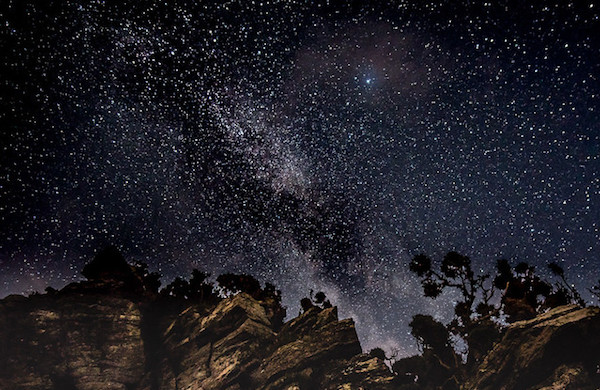 Image credit: David Williams via Flickr
---
Exmoor Dark Sky Reserve
Exmoor was the first area to be awarded dark sky reserve status in Europe and to this day hosts the Dark Skies Festival in October. This area maintains minimal light pollution, which not only makes for a brilliant star spotting location, but also makes it a great place to spot natural, nocturnal wildlife. Stargazing is a year-round activity, but the long nights of mid-winter offer the best chance to see the stars. And, whilst a full moon is a beautiful sight to behold, your best time to go star spotting is when the moon isn't filling the sky with light. Download the National Park's guide to star spotting here.

Visit:
---
Dunkery Beacon, the highest point in Exmoor's National Park
The Northumberland Dark Sky Park is the largest expanse of protected skies in Europe, with a huge 572 miles of pure starry delight. It's been designated as gold tier by the International Dark Sky Association and has some of the UK's darkest areas. It is, officially, the best place in the UK to go for stargazing. Whilst dependant on visibility and weather conditions, many visitors to the area have reported seeing the Andromeda Galaxy with their naked eye, and that's 2.5 million light years away! Dark skies return to the area at the end of July, and August tends to see a stunning Perseid meteor shower.

Visit:
---
Kielder Observatory, for a public observatory open 7 nights a week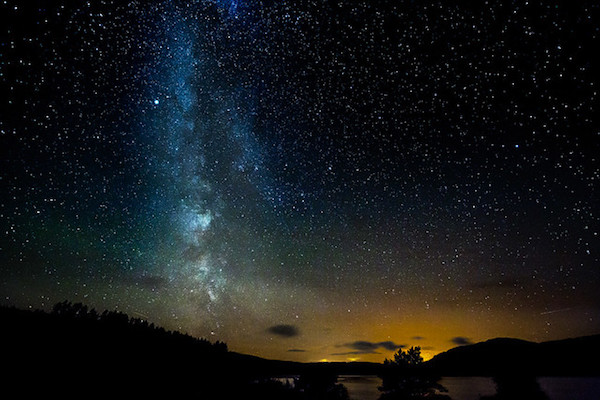 Image credit: Grant Morris via Flickr

Whilst the Scottish Highlands are well known for their star spotting opportunities, the Galloway area is a place to enjoy dark skies without travelling too far north. Not only is Galloway Forest Park an official Dark Sky Park, it is also labelled Gold Tier by the International Dark Sky Association. 300 square miles of forest and hills makes for an extremely dark expanse of space, perfect for an astronomical expedition. Within the park you'll find the Scottish Dark Sky Observatory, a public observatory that's ideal for budding star gazers with accessibility challenges.

Visit:
---
Loch Doon Castle, a loch side castle ruins with amazing dark sky views
South Downs is the most accessible of all the stargazing areas, with Brighton, Eastbourne, Winchester and Worthing all within its reach! This population density does, however, make it harder for light pollution to be limited. Nevertheless, the area was awarded International Dark Sky Reserve in 2016, and a large amount of the Downs boasts Bronze Level Skies! With areas such as Ditchling Beacon located less than 10 miles from the town of Brighton, the South Downs is the ideal spot for city-based families to go and explore the rural dark skies!