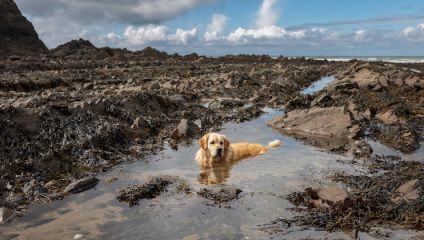 This Spring is a season of long, bank holiday weekends. With an early Easter and two Bank Holidays in May, a five-day week now suddenly feels like a really big ask. A long-weekend is the ideal time to get out of your city/town, visit somewhere new, and get some sea-air. If you have a dog, a trip to the seaside can be quite tricky, with many beaches holding strict canine regulations over summer. Here's our round up of the best dog-friendly beaches on the South coast, so if we get weather as good as the Easter weekend, you'lll be all set and ready to go!
Image credit: Adrian Woolgar via Flickr
---
Kingston Beach
Shoreham, West Sussex
Midway between Worthing and Brighton, this bright and sunny harbour is the perfect place to come and exercise your dog. Typical of a West Sussex beach, its terrain is mainly shingle and pebbles with wooden groynes sloping into the sea and is framed by large harbours heading out to sea. Its water is bright and clear, and the beach has no dog restrictions meaning you can enjoy it all year round. The rockpools make it great for kids (and big kids) to investigate the water whilst the dog wears itself out. The beach is 1.5 miles from the train station at Shoreham-by-Sea, an ideal 30-minute walk, and the town boasts pubs and cafes for refuelling you after a long day of walking along the seafront.
---
Royal Parade Beach
Eastbourne, East Sussex
A twenty-minute walk up the road from the delightful seaside resort of Eastbourne (just under 1 mile) is Royal Parade Beach, a family-friendly seaside area that is generally quieter than Eastbourne's main beach and, of course, allows dogs. The shingle beach is extremely popular for beach sports, including kitesurfing, windsurfing and sailing. Just 500 yards up the coast you'll also find the charming Princes Park, which has a scented rose garden and a boating lake and has no restrictions for dogs. On your way back into town head to The Beach Deck, (reopening for takeaway 30th for takeaways, and 12th for outside tables) a simple terraced restaurant which serves no-fuss meals and welcomes dogs on leads.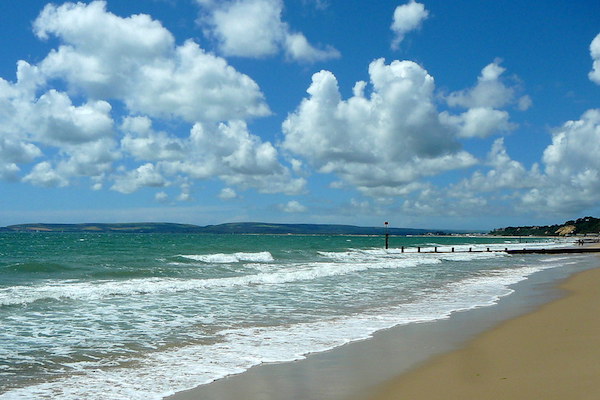 Image credit: Durley Beachbum via Flickr
---
Durley Chine Beach
Bournemouth, Dorset
This beach is well known as one of Bournemouth's most beautiful beaches, having been awarded a Blue Flag for its clean water, accessible facilities and general safety. Aside from this, its wide landscape of golden sands and shingle makes it a wonderful destination for families. Some dog restrictions apply; however, they are generally welcome on the beach. Check signs just to check you're not in a dog-restricted zone! On a clear day the scenery shows you the Isle of Wight and Old Harry's Rocks, and with excellent water quality you'll have no problem taking a chilly dip in the water.
---
Lankidden Cove
Penryn, Cornwall
Around the corner from Lizard Point (Britain's most southernly point) you'll find the hidden delight of Lankidden Cove. You can only get to this beach via a mile long walk along the coastal path from Kennack Sands, walkies that I'm sure your dog would love. This does, however, make the beach a very secluded spot of the glorious Cornish coast. Translucent, turquoise water washes up onto bright white sands - the ideal spot for sunbathing after a long walk. Its secluded location make this beach the perfect spot to visit on a long weekend, and as the beach is a 40-minute drive from the town of Penryn, it definitely warrants an entire day out.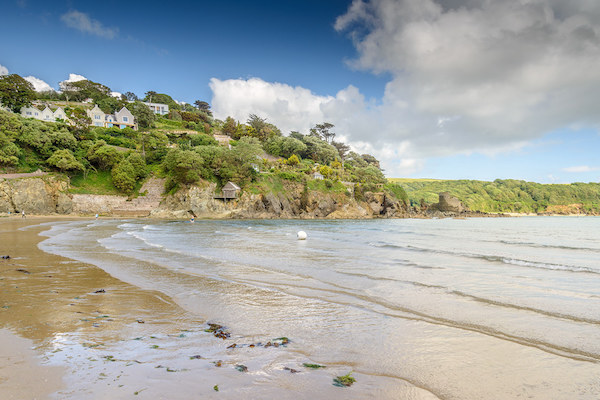 Image credit: Ray Baddeley via Flickr
---
North Sands Beach
Salcombe, Devon
Often harked the most dog friendly beach in the area, North Sands beach is a wonderful bay just 15 minutes from the town centre of Salcombe. During high tide the bay is completely submerged, however at low tide the sand is beautiful and soft, perfect for relaxing and sunbathing. The calm waters are ideal for swimming, which makes it a prime location for families and a popular little spot. From the beach you have an amazing view of the ruined Salcombe Castle (also known as Fort Charles), all located in the beautiful South Devon Area of Outstanding Natural Beauty.