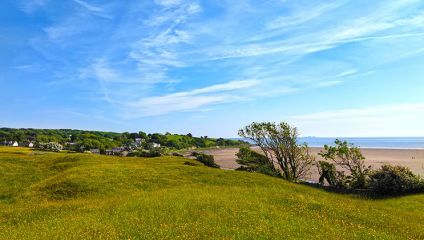 Take in the views while having a dip in these natural pools hidden around the North
We're all enjoying the feeling of the sun on our faces at long last, but where can you get that holiday feeling here in the UK? We've rounded up some of the most beautiful and unique wild swimming spots across the North of England, for a solitary morning swim, or a family day out.
---
Gaddings Dam, Todmorden
Known as Yorkshire's "secret beach" and unreachable by road, Gaddings Dam is an early Victorian reservoir on the moors above Todmorden. The site is now owned by Gaddings Dam Preservation Company, a non-profit local group dedicated to restoring and preserving the dam for the public. The hidden beauty spot can only be reached by a steep hike to the top of the moors, and the nearest parking spots are limited (at the Shepherd's Rest pub) -- plan ahead and pack your walking shoes, and you might be lucky enough to experience Britain's highest beach, 780ft above sea level.
---
Featherstone, Northumberland
An even lesser-known swimming spot is the South Tyne river near Featherstone Castle in Haltwhistle, Northumberland. Noted by Wild Swimming as a sandy beach along the south bank of the South Tyne, the area can be reached by pedestrians along the footpath. A serene setting near the castle grounds, why not follow your swim with an amble through the riverside meadows and castle, with this National Trust walking trail.
---
Loup Scar, Burnsall
The Yorkshire Dales
A short walk from Burnsall village in the Yorkshire Dales, Loup Scar makes a popular hiking and picnic site, and a great place to cool off in the water. Parking is available in Burnsall, with the Dales Way footpath connecting it to Loup Scar and Grassington. Loup Scar is a dramatic setting for a summer's day dip, with a plunge pool and stony cliffs, or a grassy riverbank for taking in the views just further downstream.
---
Morecambe Bay, Lancashire
Just to the south of the Lake District, Morecambe Bay stretches from the southwest coast of Cumbria to Fleetwood in Lancashire, giving visitors to any of the coastal towns spectacular views over the sea, and idyllic sandy beaches. If you can brave the chilly temperatures, you'll be able to admire views of Lakeland fells as you bathe in the water.
---
Grasmere Water, Cumbria
We could spend days talking about the beautiful lakes and tarns the Lake District has to offer any keen swimmers, but we had to pick just one. One of the quieter lakes, Grasmere is nestled at the bottom of some fells with Grasmere village nearby. With no motor boats to look out for, shallow waters and a small central island, Grasmere is one of the friendlier, smaller lakes to swim in -- easily followed by a hike around the surrounding fells.
Take a look at this guide from The Lake District National Park Authority on safe and responsible wild swimming.