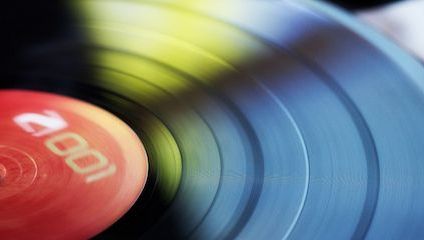 We may live in the age of digital, but Vinyl appears to be making a come-back all over the UK. There's nothing better than discovering new music and listening to your favourite tunes with the smell of fresh coffee in the air and a cake or two to look forward to.
Food and music! What's not to love?
---
Truck Store, Oxford
Image credit: Truck Store/ via Facebook
Calling all Oxford melomaniacs: if you don't know about it already, Truck Store should be your new port of call for all things vinyl. Founded within the rubble of Oxford's collapsing record scene in 2011, Truck Store spearheaded a revival and has now become an integral part of the county's music scene. Not only do they sell a genre-spanning selection of vinyl, they're also home to an intimate little stage which has been graced by some incredible names, such as Glass Animals, as well as plenty of up-and-coming local talent. Feel free to chat to the staff for music suggestions or help choosing some suitable Hi-Fi, and then grab a drink or a snack from their Mostro Café. The café take pride in their work, delivering exquisite speciality coffee as well as heavenly cakes and treats.
Truck Store is located at 101 Cowley Rd, Oxford, OX4 1HU.
---
Matters of Vinyl Importance, East London
Image credit: Matters of Vinyl Importance/via Facebook
New kids on the block Matters of Vinyl Importance have already won us over, not just with their brilliantly witty name but also their unique concept; they sell both classic and newly-released albums on vinyl, as well as books, limited edition and vintage t-shirts, prints, greeting cards and… well, the list goes on. You can chill out and listen to some of your favourite albums whilst playing old school board games, as well as enjoy tasty hot food, smoothies and locally roasted coffee. In 2018 they will start holding exhibitions from local artists and photographers, as well as regular workshops, book signings and Q&A sessions with some great names in the music and art industry. Don't miss Creation Record's founder Alan McGee who will be joining MOVI for an exciting chat about all things Britpop.
Matters of Vinyl Importance is located at 163 Hoxton Street, London, Hoxton N1 6PJ. An evening with Alan McGee takes place on the 16 January and is free, although you still need a ticket.
---
SingleShot, Leeds
Image credit: SingleShot/ via Instagram
For coffee snobs and music buffs alike, SingleShot in Leeds should be your new local haunt. As well as being known to serve up a mean flat white (not too milky, just the right kick), they also serve up a wide selection of both affordable and accessible vinyl, ranging from pop to metal. The shop was created by ex-HMV colleagues Rob and Paul who, after sharing a long love of music, coffee and booze, decided to make all their dreams come true. Thus, SingleShot was born, and craft ales, locally roasted coffee and well-informed musical suggestions flowed through its veins. This is a top choice for both a relaxing linger and just a quick stop on the way to work.
SingleShot is located at 30 Central Rd, Leeds, LS1 6DE.
---
Eastern Bloc Records, Manchester
Since the 80s, Eastern Bloc Records have been purveyors of house, drum & bass, jungle and techno vinyl and CDs. As one of the UK's first shops to import dance music from around the world, they played a fundamental role in establishing Manchester's dance scene with locals - including many famous DJs and musicians - using it as their go to spot for all the best new music. We can't believe that this place could possibly get any better, but they also host a popular (and free) club night with special guests and resident DJs every weekend! So, for a taste of the Northern city's musical history, as well as some delicious toasted sandwiches, hand-roasted coffee and local ale, head to this Northern Quarter gem.
Eastern Bloc Records is located at 5a Stevenson Square, Manchester, M1 1DN.
---
Exchange, Bristol
Image credit: Exchange/via Facebook
More than just a café-cum-record shop, Exchange is also a live music venue and, more recently, a Community Interest Company which focuses on supporting creative projects, such as by supplying local record labels with office space. The guys behind the scene have numerous years of experience running record labels, gigs and club nights, so it's no surprise that in the past they've been host to a wide-range of musical talent including The 1975, Four Tet and Sleaford Mods, as well as new, local artists. They host events most nights of the week, and are home to delicious craft coffee, a tex mex inspired veggie menu as well as yummy vegan cakes. So, after you've filled your belly, have a flick through the records and fill your ears too.
Exchange is located at 72-73 Old Market St, Bristol, BS2 0EJ.