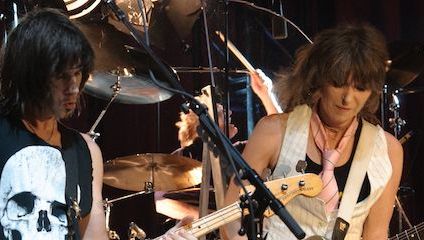 As lead singer and rhythm guitarist of The Pretenders, Chrissie Hynde blazed a trail for female musicians with her defiant attitude, sultry vocals and a nagging ability to write edgy, cutting, brave new-wave, pop and rock records. The evidence… how about record sales topping 25 million?Now the 66-year-old is back on the road with The Pretenders for a full UK tour.
Despite a triumphant start to her music career - The Pretenders' eponymous debut album reached number one in the UK and still sits at no.13 on Rolling Stone magazine's Best Debut of All Time List
Despite a triumphant start to her music career - The Pretenders' eponymous debut album reached number one in the UK and still sits at no.13 on Rolling Stone magazine's Best Debut of All Time List - the band's yearning for consistency has been constantly marred by drug-related issues (and deaths), and an ever-changing line-up. Yet Hynde, despite being as brazen and ballsy as any musician on the scene, has always maintained an air of rock mystique, and will go down in music folklore as one of the most iconic performers of a generation.
"It's always good to be out and playing live - it's where our hearts are," Hynde notes. "We do this every couple of years and it keeps the connection going… both with each other and the audience. You can't take anything for granted these days; you can't assume people will always still want to hear you."
In 1973 a 22-year-old Chrissie Hynde caught a flight from her home town of Akron, Ohio, to London in a bid to better her life. Immersing herself in the capital's counterculture, the precocious upstart landed a job at New Musical Express as a journalist, followed by a stint at Vivienne Westwood and Malcolm McLaren's fabled SEX boutique on Chelsea's Kings Road. Unable to obtain a work visa following failed attempts to marry two of The Sex Pistols (she asked both Sid Vicious and Johnny Rotten) Hynde went back to America briefly, before returning to the UK where she successfully fulfilled her dream of starting a band, The Pretenders.
Given her truly rock 'n' roll rise to fame, it comes as little surprise to find Hynde suitably unimpressed by today's musical carousel of X Factor wannabes and overly-coiffured popettes. "There isn't enough 'f*ck off' in music today," she remarks. "And there's too much attention paid to fashion - it seems as if it's meant to carry the music now... to compensate for it. But really, who cares what I am wearing? Some dumbass might, but that's their problem. Most of the time I just look like a roadie."
Hynde may not like it, but she is undoubtedly something of a fashion icon herself. That mop of jet black hair, band t-shirt swagger and trademark snarl are all noted in 70s punk mythology, along with Patti Smith's louche white shirts and Debbie Harry's slinky pillow case dress. Despite maintaining her distinctive American twang, Hynde has lived in North-West London for over four decades, and it was from there that she raised her two grown-up daughters Natalie (with Ray Davies of The Kinks) and Yasmin (with Jim Kerr of Simple Minds). The singer is happy to admit, though, that had she not embarked on a family, she perhaps would have lived a more nomadic existence.
"As a creative person I have always moved around a lot with what I do, always looking for that creative spark, yet I never wanted to move out of this neighbourhood," she reflects. "Having kids cements you even more to an area - you don't want to disorientate them.
"Might I have lived in every borough of London if it was just me? Perhaps. But we'll never know."
Laying down roots doesn't seem to have affected Hynde's musical output much, having released 10 studio albums under The Pretenders moniker, and one solo record. Activism, too, has always been a principal element of her persona. A devout vegetarian, Hynde is also strictly anti-fur and admits to being arrested "a couple of times." However, despite the relative nihilism, she remains keen to be remembered for her unwavering song writing that has inspired a bevy of female performers over the past three decades. This is easy of course given that her canon includes such classics as Brass in Pocket, Don't Get Me Wrong and I'll Stand By You.
"You know, the bit I really like is playing shows, playing with a band. Everything else is a bit tedious. You do what you have to do. I'm not too bothered about whether a record does well or not because I've never really cared that much," she says languidly, before adding with a wry smile… "I'm not supposed to say that, because I'm supposed to be more ambitious, but the truth is I hope it does okay, because then I get to tour. But that is as much as I invest in it emotionally."
The Pretenders play London's Eventim Apollo (Sunday 8 October), the Brighton Dome (Tuesday 10 October), Bristol's Colston Hall (Wednesday 11 October) and the New Theatre Oxford (Wednesday 18 October). More information can be found here.