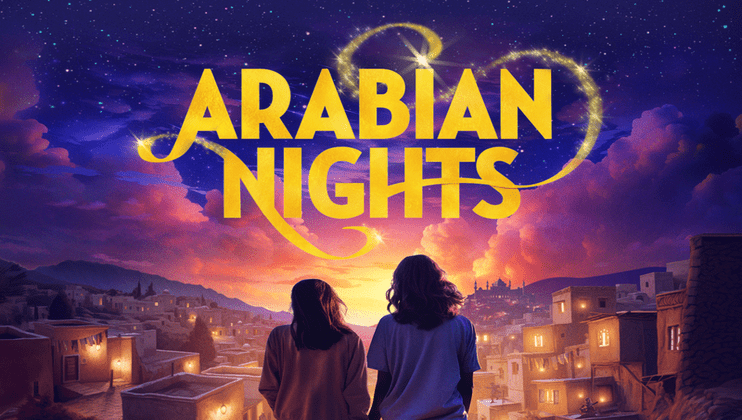 A daring heroine, captivating songs, and a timeless story of wonder and hope
This winter, the festive season wouldn't be complete without a Bristol Old Vic spectacular.
From 23 Nov–6 Jan, the Theatre will be lit up with a modern reimagining of Arabian Nights for modern times from writer Sonali Bhattacharyya (Chasing Hares – Young Vic; Two Billion Beats – Orange Tree Theatre). Arabian Nights is directed by award-winning Blanche McIntyre whose credits span Shakespeare's Globe, The National Theatre and many more.
Schere has the quickest wits, greatest courage and most marvellous stories. Now she plans to liberate every young woman in the Kingdom from the greedy, tyrannical King. All through the power of her storytelling. But can she do this alone? And is the first person she has to turn to really her annoying younger sister?
As their mission grows more complicated, the sisters turn to the people of the Kingdom to join their cause. Working together, they overcome old grudges and petty disputes to find their collective voice. Together, they light up the Kingdom with magic, excitement, unity and hope in the festive season.
Yasemin Özdemir plays our storytelling adventure -seeker 'Schere'. She is joined by Sara Diab in the role of Schere's sensible sister 'Dina'. Saikat Ahamed plays Dina's father Maruf and the self obsessed king is played by Nicholas Karimi.Patrick Osborne plays Jafar, Ajjaz Awad plays Gulab, Arinder Sadhra plays Rahiq and Roxy Faridany plays Maryam the builder and Lily.
Joining Director Blanche McIntyre and Writer Sonali Bhattacharyya in the creative team are Designer Hannah Sibai, Lighting Designer Nao Nagai, Movement Director Aline David, Sound Designer & Composer Oğuz Kaplangi, Puppetry Designer & Consultant Samuel Wilde, Casting Director Christopher Worrall CDG, Associate Director Melinda Namdar, Costume Supervisor Anna Dixon and Puppetry Supervisor Hannah Southfield.
Arabian Nights: Thursday 23 November 2023 – Saturday 6 January 2024
Bristol Old Vic, King Street, BS1 4ED
Arabian Nights has Signed, Audio Described, Captioned and Relaxed performances.
Further Information: Arabian Nights | Bristol Old Vic