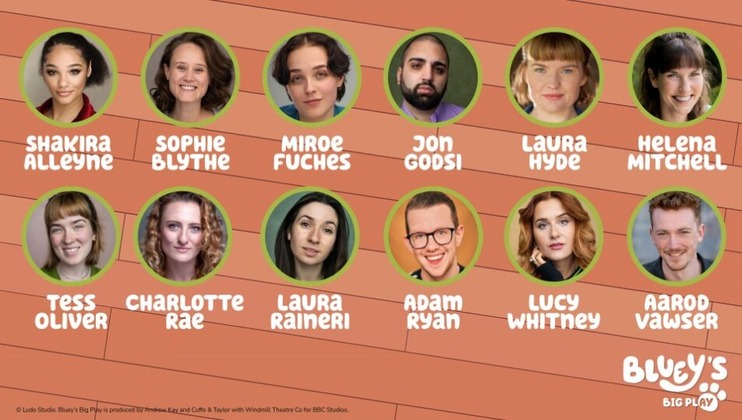 Bluey brought to real life in smash-hit live theatre show
The cast are now confirmed for the upcoming UK and Ireland premiere tour of Bluey's Big Play. The stage production will hit the road this December and tour until summer 2024. The run includes residency over the festive period at the Southbank Centre's Royal Festival Hall in London from 20th December – 7th January.
Bluey's Big Play features original voices from the TV sensation, including the instantly recognisable voices of Dave McCormack and Melanie Zanetti as Bandit and Chilli Heeler. While the larger-than-life puppets are commanded by the stage show's talented cast.
The cast confirmed for the UK and Ireland tour comprises Laura Raineri,Tess Oliver and Shakira Alleyne as Bluey. Miroe Fuches, Charlotte Rae and Laura Hyde as Bingo. Helena Mitchell, Sophie Blythe and Lucy Whitney as Chilli and Adam Ryan,Jon Godsi and Aarod Vawser as Bandit.
Directed by the multiple-award-winning artistic director of Windmill Theatre, Rosemary Myers and designed by the multiple-award winning Australian Film and Theatre Designer Jonathon Oxlade. Bluey's Big Play remixes some fan favourite moments from the TV show, produced by Ludo Studio, with a brand-new story penned by Bluey creator Joe Brumm and scored by Bluey composer Joff Bush.
Since bursting on to TV screens in Australia in 2018, Bluey has enjoyed a plethora of critical success at home and abroad, winning a 2022 BAFTA Children & Young People Award in the International category, and picked up its fourth consecutive AACTA Best Children's Programme award – in addition to an International Emmy® and numerous craft and production awards around the world.
In the UK, CBeebies and BBC iPlayer is the free-to-air broadcast platform for Bluey. In Ireland, Bluey airs on free-to-air channel RTÉjr and is also available on RTÉ Player.
Bluey's Big Play: Southbank Centre, 20 December - 7 January 2024
For more information visit blueylive.com.