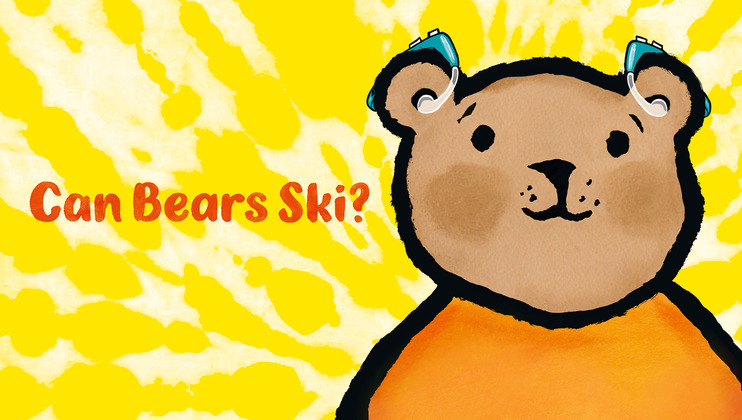 A beautiful story about growing up as a deaf child in a hearing world
The Pied Piper Theatre Company and Deafinitely Theatre have announced the full cast of the Can Bears Ski? By the award-winning poet Raymond Antrobus in a new adaptation for the stage by Tina Williams.It will be touring from the 18 November to 25 February, with the press night on the 3 December at Hawth Studio, Crawley.
Tina Williams and Paula Garfield direct Ciaran O'Breen (BSL Teacher & David Bear), Emery Hunter (Little Bear), Jessica Warshaw (Audiologist), Nick Ash (Teacher Bear) Stefan Stuart plays Dad Bear and Zoë McWhinney (Speech & Language Therapist).
The story draws on the writer's own experience as a deaf child in a hearing world with a set inspired by Polly Dunbar's illustrations. The story is brought to life on stage with puppetry, music, British Sign Language and spoken English in a world première production for hearing and deaf young people aged 3+ and their families.
Dad Bear stops and looks directly at me.
"Your friend was saying hello. Why did you ignore him?"
"I didn't." I didn't.
Then Dad Bear asks again, "CAN BEARS SKI?"
Is that really what he's asking me?
Little Bear can't hear Dad Bear calling, but feels the floor vibrate with heavy footsteps... Little Bear can't catch the funny joke at school when friends are laughing but feels the crunch of snow on frozen pavements. Join Little Bear and Dad Bear as they learn how there are many ways to communicate love, and to find your place in the world.
Tina Williams, the Artistic Director of the Pied Piper Theatre Company, who will co-direct the production said: "We're thrilled and excited to announce our fantastic cast for this lovely and heart-warming production that we're presenting with Deafinitely Theatre. Raymond Antrobus' well-loved story comes to life this winter for all the family, featuring puppetry and music, as well as a fanciful set inspired by Polly Dunbar's stunning illustrations that audiences will love."
CAN BEARS SKI? - 18 November – 24 February 2024
Further Information: The Pied Piper Theatre Company - Shows