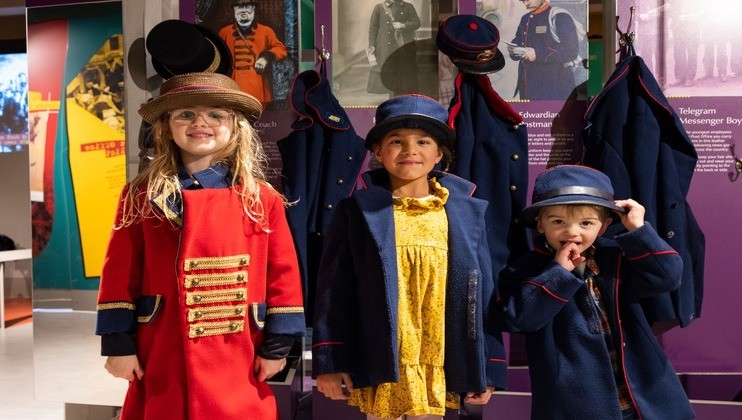 New exhibition reveals history of Britain's iconic postal uniform
June 2023: The Postal Museum in London is to open a new exhibition Dressed to Deliver, which explores Britain's famous postal uniform and how it has evolved throughout history.
From smartly dressed Victorians and their buffed buttons to modern posties and their all-weather active wear, Dressed to Deliver takes a closer look at postal uniforms from the 1780s to present day.
Exhibition highlights include:
A mail coach guard's uniform, the first type of uniform to be issued, originally in 1784.
Royal Mail's first ever maternity dress, issued in 1993.
Accessories through the ages, from hats and arm bands to badges and buttons.
Original designs, sketches and materials revealing the evolution of uniforms.
The latest Royal Mail uniforms, from the 'Resistance' range.
Opening on 18 October 2023, this highly interactive exhibition documents how uniforms have modernised due to factors including changing business needs, technology and innovation, society and fashion, as well as the notion of protecting the worker. It reveals the hard-won battles fought for uniform equality and the right to express identity, from the first female posties in trousers to important changes reflecting the cultural diversity of the UK's postal workforce. It will also explore when new initiatives and designs fail.
Key questions will be addressed including: Why do postal workers have a uniform? How does uniform impact on postal workers conditions and experience of work? How have uniforms changed to meet the changing nature of the job?
Visitors will be invited to reflect on and share their own perceptions of workplace uniforms, as well as hearing from postal workers past and present about what their uniforms mean to them.
Tickets include 1x ride on Mail Rail on your first visit and unlimited entry to The Postal Museum's galleries and exhibitions for one year from the date of your first visit. Pre-booking is recommended.
For more information and to book, visit www.postalmuseum.org/visit-us/
The Postal Museum
15-20 Phoenix Place
London
WC1X 0DA