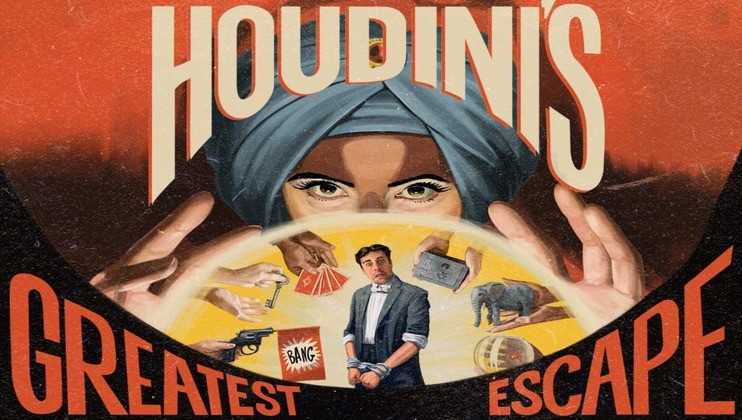 A brand new tour for 2024!
New for 2024 Award-winning theatre company New Old Friends in association with Yvonne Arnaud Theatre present HOUDINI'S GREATEST ESCAPE which will open at Yvonne Arnaud Theatre Guildford on 08 February and Tour the UK throughout Spring.
Almost 100 years ago today, Harry Houdini performed his final disappearing trick. Every year since, magic enthusiasts across the world have held Halloween seances in an attempt to solve the great escapologist's last mystery. Surely if anyone could cheat death it would have been Houdini! New Old Friends can't promise to shed any light on that story but do have a brand new one…
Harry Houdini is the world's greatest entertainer. Just as his death-defying escapology stunts have him, and his wife Bess, on the cusp of a career-defining performance for King Edward, he finds himself framed for murder by a gang of criminals in cahoots with the chief of police. Can Harry & Bess escape the plot and clear their names? And how is their rival, The Superstar Spiritualist medium, Agatha, involved?
All will be revealed in this hilarious 39 Steps-esque thriller, played out in New Old Friends' (Crimes on Centre Court) inimitable, award-winning style of physical comedy, sparkling wit and just a touch of chaos.
Featuring a hard-working cast of four playing multiple roles on an almost harder-working set, this show will have you laughing and gasping throughout at the magic of theatre and the 'real' magic of illusions designed by TV's Pete Firman (Netflix Good Omen's / BBC One's The Magicians)
Cast includes Ben Higgins as Harry Houdini, Lydia Piechowiak as Bess Houdini with 'many other characters' played by Kirsty Cox and Adam Elliott
The tour will also visit Basingstoke, Bolton, Bracknell, Bury St Edmunds, Chipping Norton, Crawley, Colchester, Darlington, Eastbourne, Exeter, Hereford, Huddersfield, Inverness, Ipswich, Lancaster, Lichfield, Lytham Saint Annes, Middlesborough, Newbury, Northampton, Peterborough, Portsmouth, Salisbury, Southampton, Wakefield, Winchester and Worthing.
London dates to be announced soon.
Further Information: New Old Friends | Theatre Company