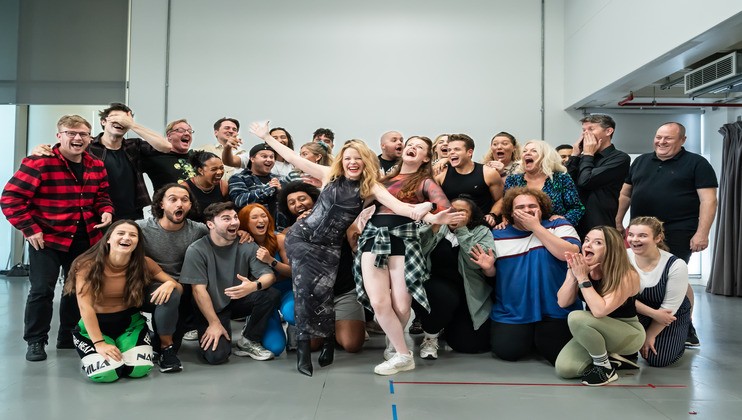 KYLIE MINOGUE surprises the cast!!!
The cast of the World Premiere of the official Stock Aitken Waterman musical, I SHOULD BE SO LUCKY received a surprise visit from iconic hitmaker Kylie Minogue during their rehearsals this week. Kylie spent two days with the company where she both recorded her part in the show and watched as the cast were put through their paces.
I SHOULD BE SO LUCKY, written and directed by Debbie Isitt (the hit NATIVITY! franchise) will open at the Manchester Opera House on Thursday 2 November 2023 before embarking on a UK tour.
Kylie Minogue will digitally appear throughout the show as a specially created character unique to the musical, alongside the cast which includes Kayla Carter as Bonnie, Jamie Chapman as Spencer, Jemma Churchill as Ivy, Matthew Croke as Nadeem, Jessica Daley as Britney, Gary Davis as Big Mike, Melissa Jacques as Shelley, Scott Paige as Michael, Billy Roberts as Nathan, Giovanni Spanò as Ash, Lucie-Mae Sumner as Ella and Anna Unwin as Olivia.
The company is completed by Tegan Bannister, Ralph Bogard, Elliot Broadfoot, Emma Crossley, Kade Ferraiolo, Sydney Isitt-Ager, Joe Kelly, Aidan Nightingale, James Willoughby Moore, Lauren Woolf and Louie Wood.
Dive deep into a heartwarming and rib-tickling tale of Ella and Nathan – a star-crossed couple with wedding jitters and tropical dreams. Will their love sail smoothly, or are stormy break-ups ahead? Only time and tunes will tell.
I SHOULD BE SO LUCKY is all about family, friends and being there when it matters most. So slip into those summer sandals, pop on your shades and lose yourself in this whirlwind of sun-kissed adventures and iconic pop classics.
Featuring the classic Stock Aitken Waterman musical soundtrack of a generation with music from pop royalty including Kylie Minogue (I Should Be So Lucky), Rick Astley (Never Gonna Give You Up), Jason Donovan (Too Many Broken Hearts) and Bananarama (Love In The First Degree). Featuring no less than 10 Number 1 singles and over 25 songs from the Hit Factory whose music defined an era, all intertwined in an original story of love, laughter and last-minute getaways!
I SHOULD BE SO LUCKY: 2 November 2023 - 4 May 2024
Further information: I Should Be So Lucky | The Stock Aitken Waterman Musical (soluckymusical.com)