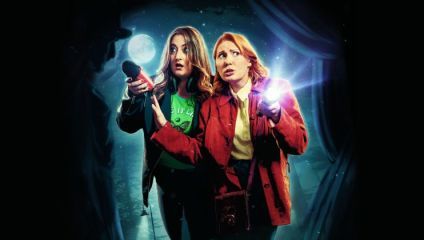 The unmissable hit of the Edinburgh Festival Fringe 2022 returns in an extended new version.
The hilarious comedy musical from the Olivier Award-winners behind Fleabag, Baby Reindeer and A Super Happy Story (About Feeling Super Sad) returns! This sell-out smash-hit from the Edinburgh Festival Fringe 2022 returns for a four-week run at:-
Underbelly Edinburgh Fringe: 2 - 27 August
Bristol Old Vic: 13 - 30 September
HOME Manchester: 5 - 21 October.
The acclaimed original cast will reprise their roles in the hilarious murder mystery musical including Bronté Barbé as Kathy, Rebekah Hinds as Stella, Jodie Jacobs as Felicia, TJ Lloyd as Justin and Imelda Warren-Green as Erica.
"This is impossible! We've got no motives. No suspects. We don't know anything! Who knew solving a murder would be so hard?"
BFFs Kathy and Stella host Hull's least successful true crime podcast. When their favourite author is killed, they are thrust into a thrilling whodunnit of their own! Can they crack the case (and become global podcast superstars) before the killer strikes again…?
'A night of utter, unalloyed joy – I defy you not to fall in love with it.' ☆☆☆☆☆ The I
Further Information: Kathy And Stella Solve A Murder