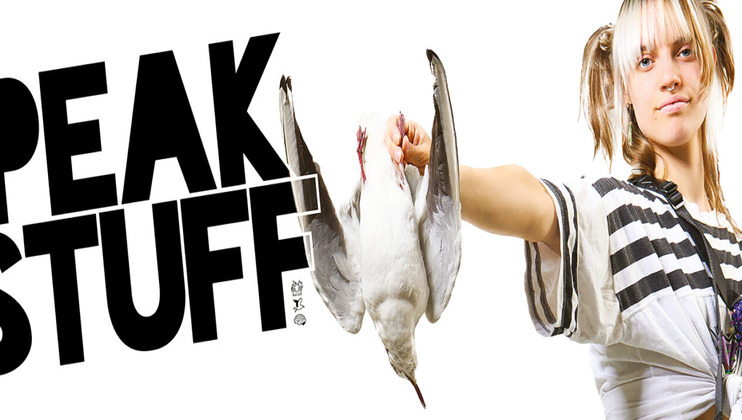 A lyrical & theatrical dive into young people's relationship with stuff
Award-winning theatre company ThickSkin make a welcome return to Blackpool Grand Theatre in 2024 with the dynamic new drama Peak Stuff on Monday 19 February.
Alice is done with fast fashion. Ben can't stop buying trainers. And Charlie just wants to sell out - one organ at a time. In an age of thrifting, retail therapy, climate crisis and click and collect – what does it actually mean to 'own things'? How does 'stuff' define us? And do we know when to stop?
Underscored by live drumming, and spectacular video design, Peak Stuff presents three fast-paced, funny, f***ed-up stories, taking a deep-dive into consumer culture to work out what went wrong and to put it right one step at a time.
One actor performs multiple stories to chip away at the role consumer culture plays in shaping our identity. Each of them on a journey to understand how things got so bad. How they reached 'peak stuff'. How they can ever go back. From leaving dead seagulls in Claire's Accessories as an act of protest to auctioning off human kidneys to the highest bidder, Peak Stuff is about some people having too much while other people have nothing.
"I like having things. I like having lots of things. It reminds me that I'm… Y'know? A person."
Peak Stuff has been commissioned by ThickSkin and Lawrence Batley Theatre and is supported by Shakespeare North Playhouse. Directed by ThickSkin's Neil Bettles (How Not To Drown, The Unreturning), this is a cautionary tale for modern times from fiercely talented new writer Billie Collins (Too Much World At Once) and is also the well-deserved winner of the New Play Commission Scheme, which celebrates the very best in new writing for the stage.
ThickSkin's Peak Stuff – Mon 19 Feb 2024 at 7.30pm, Grand Theatre, Blackpool
Further Information: Events - Blackpool Grand Theatre