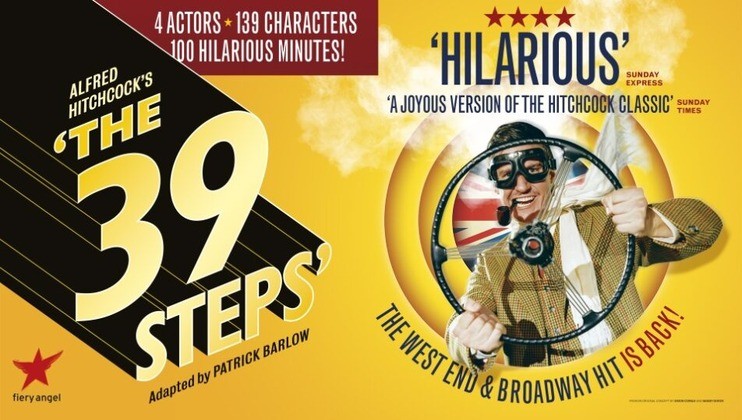 4 ACTORS, 130 CHARACTERS IN 100 HILARIOUS MINUTES!
The West End & Broadway hit is back! They said it was unstageable! Four actors transport the audience into a world of dastardly espionage, breathless romance and daredevil escapes. THE 39 STEPS triumphantly returns to embark on a tour across the UK, launching at winner of UK Theatre's Most Welcoming Theatre award, Queen's Theatre Hornchurch on the 14 March 2024 and ending by the sea at Southend Palace Theatre on 27 July 2024 after visiting Richmond, Cambridge, Newcastle, Birmingham, Cardiff and Glasgow to name but a few from the 20-week tour!
THE 39 STEPS is back out on a UK tour after nearly 10 years in London's West End, taking Broadway by storm, playing in 39 different countries across the globe, and delighting over 3 million people worldwide with its quintessentially plucky spirit and dashing sense of fun. Originally written as a novel in 1915 by John Buchan and made into a 'BFI Top 5 British Film of all time' by Alfred Hitchcock THE 39 STEPS is adapted by critically acclaimed and award-winning writer, Patrick Barlow from an original concept by Simon Corble and Nobby Dimon into an Olivier and Tony award winning international hit.
Follow the incredible adventures of our dashing hero Richard Hannay, complete with stiff-upper-lip, British gung-ho and pencil moustache as he encounters dastardly murders, double-crossing secret agents, and, of course, devastatingly magnificent women.
This production celebrates theatricality and includes legendary Hitchcockian scenes from the chase on the Flying Scotsman and the Escape on the Forth Bridge, to the first ever staged theatrical Bi-Plane Crash and the sensational death-defying Finale in the London Palladium. The inventive set design by Peter McKintosh, allows the action-packed story to flow seamlessly from one location to another, and will be brought vividly to life by the talented and versatile cast of four (casting to be announced). Patrick Barlow brings his unique brand of comedy to THE 39 STEPS. Directed by Maria Aitken with movement direction by Toby Sedgwick, set and costume design is by Peter McIntosh, with lighting design by Ian Scott and sound design by Mic Pool.
This wonderfully inventive and gripping comedy thriller features four fearless actors in 100 minutes of fast-paced fun and thrilling action and is not to be missed!
THE 39 STEPS: 14 March 2024 – 27 July 2024
Further Information including all tour dates: TICKETS - The 39 Steps (love39steps.com)