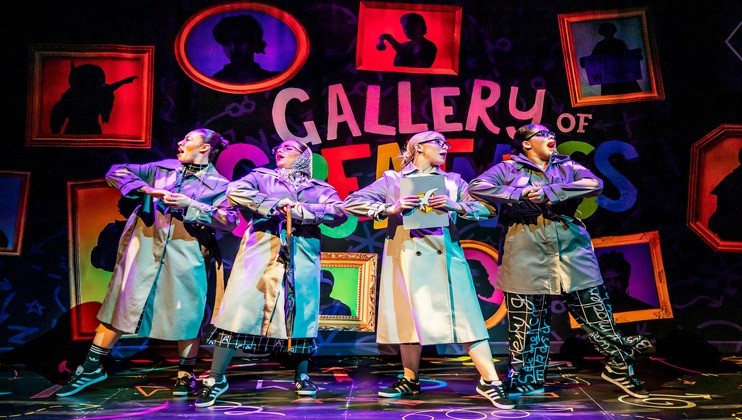 Empowering smash hit pop musical celebrating women throughout history!
The incredible cast has been announced for the UK tour of award-winning musical Fantastically Great Women Who Changed the World, Thursday 30th November 2023 – Saturday 16th March 2024. This empowering pop musical, from one of the producers of the worldwide sensation SIX, is based on the popular book by Suffragette relative Kate Pankhurst. Fantastically Great Women Who Changed the World has delighted and inspired audiences across the UK, snowballing to become a firm favourite with a nation-wide following. The tour opens at New Wimbledon Theatre 30th November – 2nd December!
The fantastically great cast includes Elena Breschi, Jennifer Caldwell, Georgia Grant-Anderson, Chlöe Hart, Leah Vassell, Millie Kiss, Summer Priest and Rachel Seirian.
This critically acclaimed show is bringing back its awe-inspiring characters, catchy pop soundtrack and TikTok-favourite choreography. Audiences who can't wait for the Fantastically Great Women to land at their local theatre can download the toe-tapping, sing along worthy soundtrack by #1 hit single writer Miranda Cooper (Kylie Minogue, Girls Aloud) and Jennifer Decilveo (Miley Cyrus, Demi Lovato).
Remarkable – and often forgotten – women from history are lifted from the pages of Kate Pankhurst's beloved book and brought gloriously to life on stage, including Rosa Parks, Amelia Earhart, Marie Curie, Mary Seacole, Frida Kahlo, Jane Austen and Pankhurst's own relative Emmeline. When inquisitive heroine Jade breaks away from her school trip to the local museum to peek at the Gallery of Greatness, she meets iconic women from the past, whose actions and lives changed the world as we know it, including explorers, scientists, artists and secret agents. This enthralling, heartwarming musical is full of incredible characters, inspirational moments and a soundtrack that packs a popstar punch.
Fantastically Great Women Who Changed the World: 30th November 2023 – 16th March 2024
Further Information: Fantastically Great Women Who Changed The World