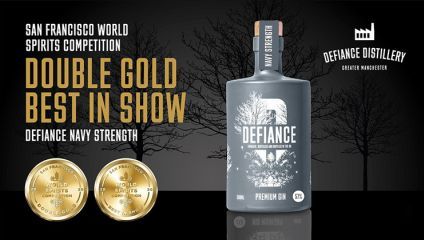 This month culturecalling.com are giving you the chance to win a bottle of Defiance 57% Navy Strength Premium Gin. Distilled in Greater Manchester, this bottle of gin was voted the best in the world out of 3000 entries at the prestigious San Francisco World Spirits Competition. (SFWSC), 2020. And also won Gold at the SIP International Awards 2018.
Defiance Gin is an ultra smooth gin due to the column head design of the still with a unique combination of foraged botanicals including sweet ciceley (anise), tangerine root as well as the tips of spruce and steeped and vapour infused with another 13 botanicals.
And given the year we've had it couldn't be a more apt time to trial it - Defiance in Spirit – representing our innate need to survive every day challenges & thrive – both from within & out.
This Gin has got to be worth trying! Enter the competition to be in with a chance of winning a bottle.
You're in with a chance to win
You have successfully entered this competition!