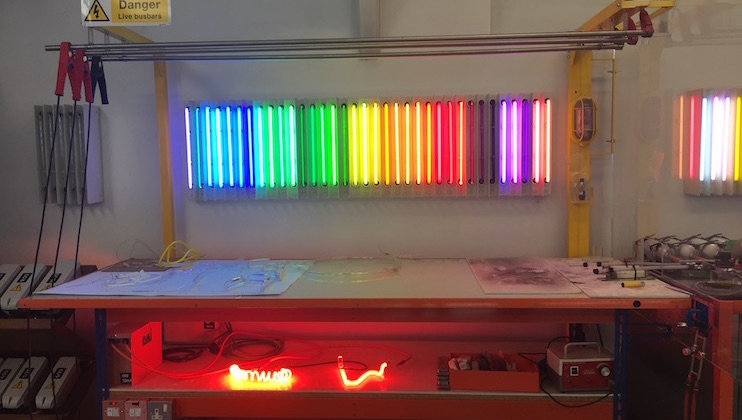 From fireworks to festive illuminations - we all love a bit of dazzle in our darkness this time of year. So we headed to Wakefield to catch up with Richard Wheater, artist and owner of Neon Workshops, which he founded in 2010 - a place where nerds and newbies alike can enjoy the brilliance of 'cold cathode' lighting (aka Neon)...
Culture Calling: Tell me about the Neon Workshops, what do you do?
Richard Wheater: We fabricate and install neon, we teach and preach it, and we publish and exhibit it. For anyone interested in the subject, we're here to inspire them and unravel some of the mystery around it. I felt there was nowhere in the UK, or Europe really, where people could access a facility like this to roll their sleeves up and start working with neon and developing a relationship with it.
CC: What inspired you to do that, what's the appeal of neon?
RW: It's the epitome of electricity - it's excitement in a glass. Neon has this alluring capacity to get people from all walks of life, all demographics turning their heads, and that kind of influence is nice to befriend.
CC: And it's not that bad for the environment, is it?
RW: As far as lighting goes, it's up there with the top! It's entirely recyclable, it's energy efficient, it's biodegradable - yeah, it ticks all the boxes.
CC: How did you get involved in neon yourself?
RW: I was interested in glass because at the time, when I was at Art School, the city of Leeds was rising up in the form of glass buildings. It seemed like the future, and I wanted to comment on that; and the most honest way of doing that is to use the material that's inspiring you. I got to study in the States and I suppose that was the first time I was really exposed to neon. For the first time I realised you could use it as a material. By that I mean seeing it as gas inside glass, which is excited by electricity, and then everything else is up for grabs. So since returning to the UK I haven't stopped learning and trying to interest other people in it.
CC: What are your top recommendations for UK places to enlighten yourself about neon?
RW: Neon is very popular at the moment, especially in the art scene, so there are always several exhibitions in London that have some form of neon. Spaceshifters is a show at the Haywood Gallery Southbank, which I thoroughly recommend, on until January. You've got God's Own Junkyard in Walthamstow - set up by the late, great Chris Bracey - which is floor to ceiling artefacts, amazing Americana-style neon.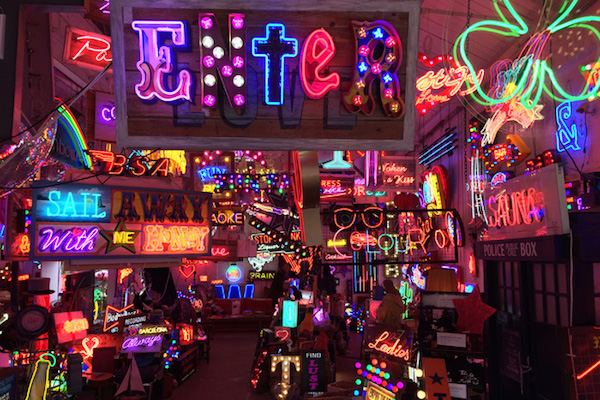 Photo credit: God's Own Junkyard via website
You've got a good exhibition in Leeds at the moment at the Tetley, Bus2move by artist Simeon Barclay. In London, UCL holds the first neon-filled tubes that were made by William Ramsay and his team in 1898, so to see those still existing and still working is fascinating for any neon anorak.
And finally I'd have to add this place! Here at Neon Workshops we have an annual programme of exhibitons as well as workshops. At the end of this month Nick Halford will be exhibiting new work, and I recommend people come and check it out.
CC: What about Blackpool - any good?
RW: Once upon a time Blackpool had a really high concentration of neon, but unfortunately that's dwindled, and the North Sea salty air doesn't do neons any good at all. I would say London still has some great little hotspots; the West End is clinging on with some good signs, and the theatres are slowly bringing neon back.
Neon Workshops run a variety of courses in Wakefield and London. For more information, including how to book, visit their website.