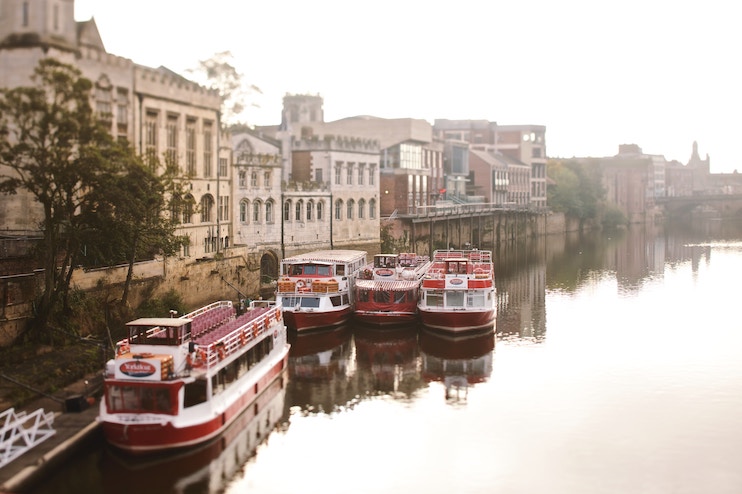 Get the best of York on the cheap
---
10:15 - York Walking Tour (Free)
York is bursting with architectural beauty and sites of cultural and historic interest, and the best way to get the most out of its countless offerings is to be shown around town by an expert. Join a free guided tour given by The Association of Voluntary Guides and take in all that the city has to offer. Tours leave daily from Exhibition Square and usually include sites such as the ruins of St Mary's Abbey, the King's Manor, York Minster, the haunted Treasurer's House and St. William's College. Walking the city's streets while being told stories of the city's history and heritage is a must-do for an introduction to this great city.
All standard tours depart from outside York City Art Gallery in Exhibition Square
---
12:30 - A Walk Around The Shambles (Free)
The York Tour will end here in the Shambles, and it's a good idea to stick around this fascinating, historic neighbourhood to get a real taste for York's rich past. Hailed as Europe's best-preserved Medieval street and one of Britain's most picturesque destinations, The Shambles' cobbled streets are lined with buildings dating back to the 1300s and 1400s. It's also rumoured that the Shambles are the inspiration for Harry Potter's Diagon Alley, so don't miss your chance to see the real-life version of J.K. Rowling's famous fictional thoroughfare.
---
1:30pm - Lunch at The York Roast Co. (From £4.50)
Nothing says Yorkshire quite like the mighty Yorkshire pudding, so it makes sense to get your fill on this traditional treat at the popular York Roast Co. Specialising in freshly roasted carved sandwiches with all the trimmings and their famous YorkPud wrap, stop by this lunchtime hotspot for delicious food that won't break the bank. It's a firm favourite with the locals and its innovative take on the humble pud recently went viral on social media. Get in on the action and treat yourself to a classic Yorkshire special.
78 Low Petergate, York YO1 7HZ
---
2:00pm - The National Railway Museum (Free)
You don't have to be an avid trainspotter to enjoy yourself at this gem of a museum which has hands-on, interactive exhibits to entertain all ages. Its halls are packed full of trains from the last 300 years including the impressive Duchess of Hamilton, the lavish Royal trains, and the only Japanese Bullet Train to be seen outside of Japan. The National Railway Museum is one of the most popular railway museums in the world and is internationally recognised as having one of the vastest archive collections of railway materials anywhere. Enjoy a fun afternoon learning about the impact railways have had in shaping the modern world, and get on board with the exciting exhibitions it has to offer.
The National Railway Museum is located at Leeman Rd, York YO26 4XJ. Open daily from 10am-5pm
---
4:00pm - York Museum Gardens (Free)
Set around the beautiful medieval ruins of St. Mary's Abbey, York Museum Gardens is a relaxing haven of greenery in the heart of the city. Boasting over 40 types of visiting birds and wildlife as well as an impressive botanical collection, the gardens are a perfect spot to wander around and unwind while taking in some of the city's most impressive natural beauty. Also within the grounds are Yorkshire's oldest working observatory, an edible wood, and an artist's garden with regularly changing outdoor exhibitions.
The Yorkshire Museum Gardens are located at Museum St, York YO1 7FR. Open daily from 7:30am-6pm.
---
6:30pm - Dinner at Il Paradiso del Cibo (From £7.95)
A firm favourite with York locals, Il Paradiso del Cibo is known for serving some of the tastiest and most authentic Italian cuisine in town. Specialising in Sardinian dishes, the restaurant's menu features delicious, reasonably priced meals that will fill you up and warm your soul. Amongst the delectable options are big bowls of hearty pasta and mouth-watering pizzas that are sure to put a smile on your face. With friendly, knowledgeable staff and a lively, welcoming atmosphere, Il Paradiso is a real York gem that you'll be eager to return to when you next visit this beautiful city.
Il Paradiso del Cibo is located at 40 Walmgate, York YO1 9TJ.