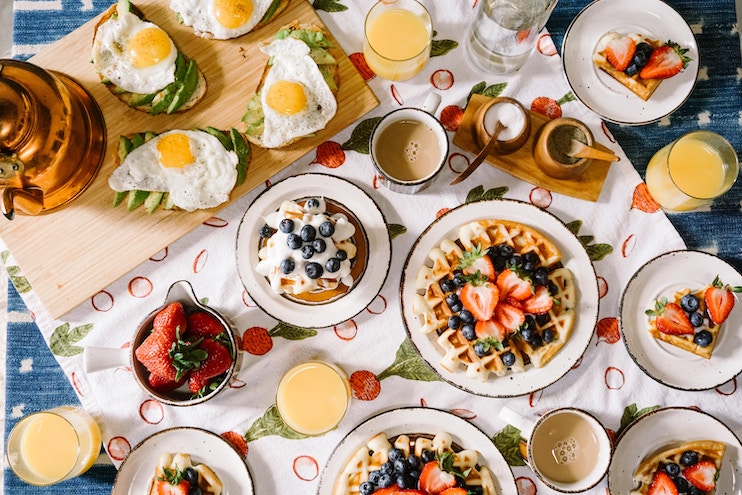 Get your Saturday morning fill, whether you're coveting crepes or starving for sourdough
---
In our opinion, you can't get better than a brunch at Pig & Pastry in York. Located on the adorable Bishopsthorpe Road, the café brings together affordable prices, a cosy atmosphere and really good food. Their delicious breakfast burger can't be beaten, and neither can their sweet treats - think a Reese's peanut butter cup doughnut (and then try to stop drooling). But the café can be as delicious and well-priced and cosy as it likes - the best thing about the place will remain the fact that it plays Harry Potter audiobooks in the bathrooms.
---
Roberto's
An Italian ice cream café might seem a bit of an off-the-wall choice for a brunch spot, but once you've tried the crepes at Roberto's, you'll never go back. The café is small but warm and welcoming - you'll feel like you've just stepped into a tiny slice of Italy even if it's pouring with rain outside (and let's be real, this is Yorkshire, it probably is). There are waffles on offer too if crepes aren't your thing, plus delicious Italian espresso to wake you up.
---
The dishes are served on two absolutely giant doorstops of sourdough - but the task of sawing away at it is rewarded by its taste levels. Also popular are their American pancake stacks, which'll please anyone with a sweet tooth. Again, you'll probably have to queue - but isn't that all part of the brunch experience at this point?
---
Goji Café
This bright and welcoming veggie café is open from breakfast to dinner, making all your plant-based dreams come true, and their breakfasts are a highlight, from butternut squash and cheese rarebit and veggie sausage ciabatta to the classic halloumi on toast with sundried tomato. Many of their breakfast options are also vegan, so nobody will be left out.
---
Centrally located in a beautiful old Tudor building with the frontage lovingly restored, this is the perfect place to take visiting family and friends you want to wow with a bit of York's history while simultaneously ensuring full and happy bellies. Tell them about how the Mannion family originally opened the premises as a greengrocers more than three decades ago over a perfectly cooked bacon sandwich with cherry tomato chutney and a glass of fresh OJ.