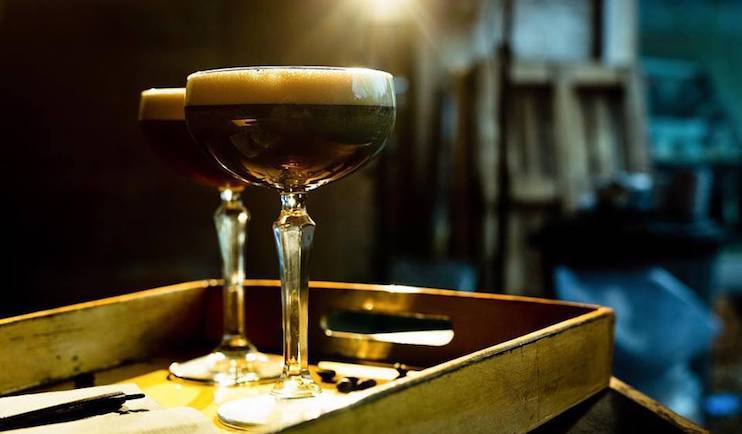 Unlike a Fluffy Duck or a Slippery Nipple, this '80s cocktail has withstood the test of time
Spotlight on:
---
The Fossgate Social
25 Fossgate, YO1 9TA
The Espresso Martini is a glamourous drink that should feature on any bar's classic cocktail menu. Whether made up of a classic recipe or infused with a unique twist, the coffee flavoured, vodka-based drink is the ideal pick me up for a sleepy lull in an afternoon of day drinking. It was invented in the late 80s by London bartender Dick Bradsell, after a young customer came in and asked for a drink that would "wake me up, and then f**k me up." Whilst opinions differ on what makes the Espresso Martini so good, it's fair to say that the key to smashing it is using a freshly brewed shot of coffee. For this, head to York's Fossgate Social…
This bar is first and foremost a café, which offers hot food, sandwiches and cakes. It specialises in coffee and is the top spot for coffee for many York locals. Unlike most cafes, however, the shop is fully licensed and stays open till after midnight, simultaneously making it a quality cocktail bar. Grab a seat in one of the prized window seats or in the pretty back garden and treat yourself to a freshly brewed Espresso Martini.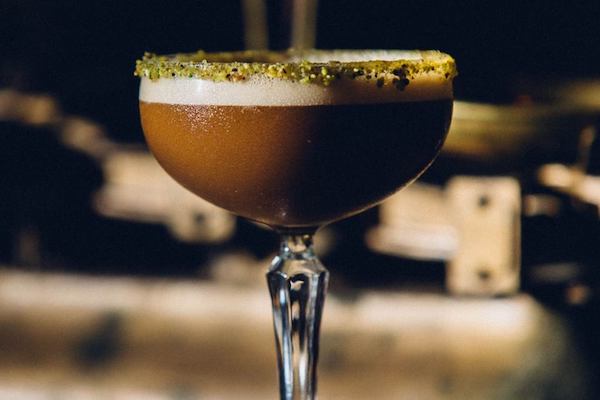 Image credit: Banyan York via Facebook
Best of the rest:
3 Little Stonegate, YO1 8AX
A spacious bar with kitsch interiors (who doesn't love a zebra print booth!?), the Banyan bar is owned by a chain called Arc Inspirations, who also have bars all over Yorkshire. We'd normally shy away from a chain cocktail bar, but their fresh and modern twists on classic drinks is seriously impressive. Here at Banyan you can get a Pistachio Espresso Martini, which is mixed with Reyka vodka, Tia Maria coffee liqueur, a shot of espresso and their homemade pistachio syrup. The cocktail (pictured above) costs £7.95, unless you come down during Happy Hour within which you can get 2 for £10!
---
Evil Eye
42 Stonegate, YO1 8AS
This funky cocktail bar has been decorated with Brazil, Haiti and Morocco in mind and offers an extensive cocktail menu. In fact, it was voted no. 47 in Britain's Top 50 Cocktail Bars last year. Its Adventure Time themed menu doesn't scream elegant evening drink, but their gins and cocktails are notably superb. Their unique Espresso Martini is blended with Ketel One vodka, Borghetti liqueur, Patron XO Café tequila, a shot of espresso and a dash of sugar syrup. Vodka, coffee liqueur andtequila sounds like something you'll regret in the morning, but that's a problem for future you. You can grab this one for £7.50!
Station Road, York, YO24 1AA
Situated in the historic Grade II listed Principal hotel, the Chapter House Bar is the ideal spot for grabbing a cocktail during your stay in York. Their Espresso Martini is a true classic, combining Absolute vodka, Kahlua and a shot of espresso and costing £9.75, all brought to you in the stylishly renovated hotel bar area.
---
Yorkshire Bartender
Travelling service
Ok, so this one might not be totally relevant as it isn't actually a bar. However, the Yorkshire Bartender is based in York and their Espresso Martini deserves a mention. The team provide expert mixology for weddings and events, as well as cocktail masterclasses to spice up your private party. Their espresso contains a shot of espresso, Mr Blacks Coffee Liqueur, a shot of vodka and some vanilla syrup for a sweet little kick. Organise a cocktail making party with the Yorkshire Bartender for a chance to learn to make this yourself. All the ingredients are available in the supermarket, so you'll be able to recreate this at home!