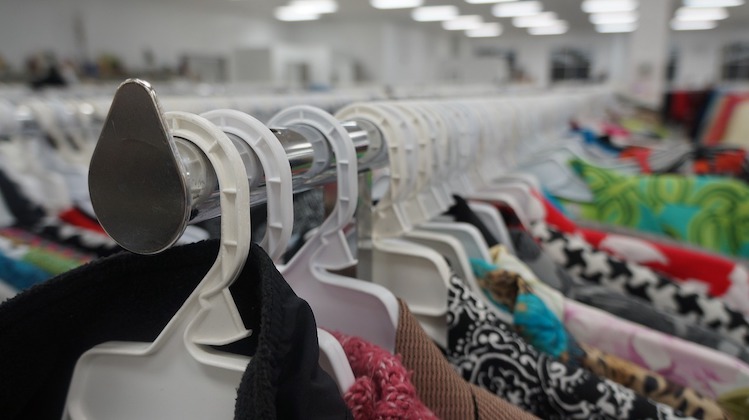 Where to grab the best bargains
---
Bowler Vintage
There's no better place to start than Bowler Vintage at the top of Fossgate. If any shop is doing the vintage 'thing' properly, it's this one, down to the classic soul music always playing, and the brilliant selection of sunglasses, lipsticks, hand mirrors, and silk scarves. It's not as 'keep calm and carry on', 1940s retro-style as you might think, though. There's even a rail of denim jackets. Plenty of vibrant items of all types to keep anyone happy, even if the dominant aesthetic does seem to fit the 'gentlemanly' and 'ladylike' categories.
Bowler Vintage is located at 52 Fossgate, York, YO1 9TF
---
Expressions
More orientated towards fans of the 90s rather than the 40s is Expressions, just down the road on Walmgate. This shop boasts several rails full of clothes organised indiscriminately of gender, from cosy patterned jumpers to various neon-coloured t-shirts and sports jerseys. Price-wise both Expressions and Bowler are fairly affordable, but Expressions is a particular must-visit for anyone keen on the ever-ongoing 90s revival.
Expressions is located at 12 Walmgate, York, YO1 9TJ
---
Also gunning for that student clientele is Dog & Bone on Castlegate. In a slightly larger space than Expressions, Dog & Bone has items separated out by type, with a large array of men's clothes upstairs and a good selection of women's downstairs. The vibe is fairly young but all sorts of things are available. The shop also features a gift section with prints, coffee-table books, mugs and more, all in keeping with the vintage trend.
Dog & Bone is located at Shop 1, Castlegate, York, YO1 9RP
---
Priestley's
The high end shopper might like to pay a visit to Priestley's, located on Grape Lane in the heart of the city's tiny cobbled streets. It's here you can find several big-name designer pieces, and the prices naturally reflect this, although sale reductions can make them pretty reasonably-priced. The array is mostly in keeping with a classic, glamorous, heritage look, though there are, as ever with vintage shops, quirky pieces to be found, whether in the embroidery on a shirt's breast-pocket, the picture knitted onto a jumper, or a particularly characterful dress.
Priestley's is located at 11 Grape Lane, York, YO1 7HU