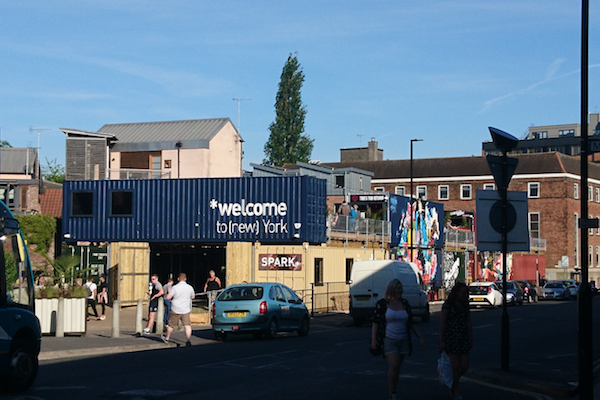 A unique collection of local, York based businesses, in a temporary structure built out of colourful shipping containers, has transformed a vacant parking lot on Merchantgate, next to the Red Lion Pub. Aiming to stimulate a social space, Spark: York was created by Sam Leach and Tom McKenzie in May 2018. Spark strives to make York the (new)York, and it certainly adds a breath of fresh air into the historical city.
Spark: York is a creative initiative, and a wonderful place to hang out and catch up with old friends and family.
One of the first things you'll notice about Spark: York is its unusual setting in a structure of old shipping containers, bearing striking resemblance to Box Park (Shoreditch, London), a similar "pop up mall" built out of old containers. It is eye-catching and colourful, and brings a certain urban feel to the area, reinforced by the amazing street art on many of the walls. The variety and intimacy of the stalls create the vibe of a local market place; Spark allows small businesses of all sorts (such as food, clothes and art) to come together and enjoy the surrounding community. The prices are not extortionate, and if you are looking for high quality food or drink for a reasonable price, Spark: York is the place to come to. For example, one can venture upstairs for a delicious Thai meal at Tikk's Thai Kitchen (an award-winning restaurant) for under £10. Despite the space being dominated by food and drink stalls, there are also a variety of other commercial outlets; such as a small vintage clothing shop downstairs, and boutiques upstairs such as Life and Soul. There is also a small salon (Toner & Co) if one wishes to pursue a new look.
Image Credit: Zelda Feldman
A colourful and creative initiative, the social aspect of this project is one of its defining factors. The variety and amount of people present at Spark is overwhelming; from people enjoying food and sampling the beers to others simply enjoying the sun in the relaxing, vibrant atmosphere. It is also a great place for children - as an enclosed, and quite small space, there is room for them to roam freely without too much concern - and dogs are very welcome, making it a perfect space for all the family.
Image Credit: Zelda Feldman
A small garden running parallel to the many stalls with leafy bamboo plants scattered throughout the space adds a splash of natural green to the environment, and creates a natural aura in a space that could have easily felt heavily industrial. Street art along the garden wall depicts sights around York, and in one corner there is a sculptural metal tree, with small tags where people can leave feedback. The 113 artists of all ages and walks of life who transformed this space are truly inspirational epitomise Spark: York's aim of uniting the community.
Image Credit: Zelda Feldman
Spark: York is a creative initiative, and a wonderful place to hang out and catch up with old friends and family. The food and drink is amazing quality for the price, and it all supports local businesses. However, this arrangement is not without its negative aspects - the lack of a roof over the structure makes it a wonderful place to enjoy the sun, but the unpredictable English summers could very easily subvert such a decision, so if you are planning a trip, make sure to double check the weather forecast!
Spark: York is located at 17-21 Picadilly, York, is open 8:00 am - 10:30 pm Sundays-Thursdays and 8:00 am - 11:00 pm Friday-Saturday. Entry is free.